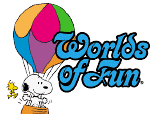 WORLDS OF FUN
& Oceans of Fun
Kansas City, MO
Cedar Fair L.P.
Park News - (7/23/2023) Worlds of Fun has made a big change to this year's Halloween Haunt. The park's website has now confirmed that when the Haunt returns in 2023, "This year Halloween Haunt will now be a stand alone event with separate tickets and policies."
So the way I understand it, Halloween Haunt at Worlds of Fun was just something that happened as nighttime fell across the park, with haunted houses opening and monsters creeping out onto the midways to scare everyone. Or at least this is how it worked when I visited Kings Dominion.
Under the new rules, it sounds like they are going to run it more like how they do at Carowinds, where the park closes for the day around 4 or 5pm, and all guests are asked to leave. The park will then open later on, probably around 6pm, and all guests must either have a specific ticket to the evening's Haunt event, or the correct tier of season pass that includes admission to the Haunt, and proceed to go through a new security screening before being allowed into the park. In these cases, items that would be allowed into the park during the daytime are no longer allowed at night, and in recent years, larger items like purses and backpacks are not allowed at all. The actual policies for Worlds of Fun have not yet been posted, but you can expect that they will be similar to those used by the Cedar Fair parks with separate admission haunt events.

(6/15/2023) While the media preview (and winners of the first ride auction) for the Zambezi Zinger will be taking place Friday morning, the local news reports that the coaster wont open the public until Monday, June 19th. I haven't heard what will happen over the weekend, but I'd think more passholder preview rides could possibly be in order.

(6/11/2023) According to reports, Worlds of Fun soft opened their new Zambezi Zinger to season passholders yesterday and so far most of the comments I've seen on social media have been extremely positive. One thing noted by a reader was that the Zambezi Zinger trains do not currently have seat-belts.
As any frequent visitor to a Cedar Fair theme park is fully aware, Cedar Fair generally adds seat belts to every single coaster they operate, even to designs that were never intended to feature them, such as classic Arrow loopers.
This does not mean that Worlds of Fun won't add the seatbelts later. When the chain added their first B&M hypercoaster triplets (Behemoth in 2008, Diamondback in 2009 and Intimidator in 2010) it was noted that all three opened without seatbelts, using just the classic B&M clamshell lap bar design. But by late Spring/Summer 2014, the chain had gone back and installed seatbelts on all three. According to a few quiet rumors, this Corporate move from Cedar Fair may have been prompted by the death of a rider at Six Flags over Texas in July 2013 on the New Texas Giant, who was thrown from a train from an entirely different manufacturer that only featured lapbars. At the time, I believe Leviathan at Canada's Wonderland may have then been the only coaster without seatbelts in the chain, but they did add them about a year later in 2015, about the same time that Fury 325 at Carowinds opened with them on day 1.




(5/25/2023) Worlds of Fun officially announced that they will be delaying the opening (and media and passholder previews) of the new Zambezi Zinger. The new roller coaster is nearly ready, it just needs to undergo some extra testing before it will be ready to open. Keep an eye on WOF social media channels for a future update as to when the new opening date will take place.


(4/13/2023) Just like naughty children, the fights and guest problems on opening weekend have caused World of Fun to lay down the law. Or in this case, they've enacted an official Chaperone Policy. Effective starting April 15th, all guests age 15 and under "must be accompanied by a chaperone who is at least 21 years old to be admitted to, or remain in, the park after 4:00p.m.." The chaperone must stay with their party not only during entry, but remain with the group throughout the entire visit. Underage guests caught visiting the park without a chaperone available "will not be permitted to enter or remain in the park after 4".

(4/9/23) Opening weekend at Worlds of Fun apparently has not gone as planned for the park. According to several reports, it seemed that the majority of the rides in the park were still closed, giving the park the appearance that it was not at all ready to be handling crowds this weekend. Making the situation even worse, the local news reports that a big fight broke out in the park sometime on Saturday, with one guest being "injured from an obvious stab wound", which resulted in the park closing down as the police arrived to handle the investigation.

(4/8/23) Things are changing at Worlds of Fun this season, in more ways than you might expect as the park turns 50 this year. While final preparations are under way to finish the new Zambezi Zinger roller coaster, the park has also made the choice to retire and remove five older rides this season. In all cases, the rides are said to be leaving due to their age.
The five departing rides will be:
Monsoon (Intamin Chute the Shoots / aka: big splash boat ride)
Falcon's Flight (Huss Condor)
Linus' Beetle Bugs (kiddie ride)
Snoopy's Yacht Club (kiddie ride)
And Peanuts Turn Tyke (kiddie ride)
The removal of the three kiddie rides isn't all that surprising, as these three are fairly old attractions, with many newer kiddie rides added over the years, inclduing five new additions with the addition of Camp Snoopy in 2016. The loss of Monsoon marks the latest removal of a water ride, which has been an ongoing trend at many North American theme parks over the past decade or two. Carowinds, a sister Cedar Fair theme park, went so far as to remove all three of their water rides over a 10-year period, with the closure of their log ride in 2009, followed by their own shoot-the-chutes (Whitewater Falls) in 2016 and then Rip Roaring Rapids in 2019. So Worlds of Fun fans would be wise to keep an eye on their own Viking Voyager flume and Fury of the Nile rapids rides.
The loss of Falcon's Flight is an interesting one, as it was one of only a small handful of Huss Condor rides still operating in North America, and this particular one was just added to Worlds of Fun in 2017. Huss produced the original generation Condor rides from the mid-1980's and retired the design in 2007, though a 2nd Gen version was offered in 2013 to my knowledge very few have been sold. Falcon's Flight at Worlds of Fun was a 1st Gen version that had previously been run at Vidampark (Hungary) as Ikarus from 1999 to 2013 before being refurbished and moved to Worlds of Fun. Today I believe the only remaining Condor's in North America reside at Six Flags's Great Escape (New York), Le Ronde (Canada), and Six Flags Great America (near Chicago). Niagara Amusement Park however is rumored to be adding a used Huss Condor that they may have picked up from Hersheypark when they removed their version a few years ago. I wouldn't be surprised if some parts of the Worlds of Fun version end up there are well to merge in with the one they have to create a single working version of the ride near Niagara Falls along with a stockpile of spare parts to keep it going.

(1/11/2023) It sounds like Cedar Fair is moving some of their park staff around. According to this article Cedar Fair has named Rick Fiedler as the new VP and General Manager of Worlds of Fun. Fiedler comes from Knott's Berry Farm where it was VP of Merchandise for the past six years, and before that he spent 10 years in the same post at Canada's Wonderland.
The previous VP/GM of Worlds of Fun, Tony Carovillano, has returned to Kings Island to serve as the VP of Operations.
2023 - Zambezi Zinger - (7/8/2023) Our local coaster guru Randal traveled out to Worlds of Fun to ride the new Zambezi Zinger for Screamscape and sent back a video and a brief review. It is worth noting that Randal also clocked-in many rides on the original Zambezi Zinger (1973-1997) to compare how this latest inspiration lives up to the original.
–
The all-new Zambezi Zinger at Worlds of Fun is definitely a nod to the former coaster of the same name. The lift hill was the part I was most concerned about. To me, it looked too steep and compact compared to the original. I actually found it very similar to the original, though a bit noisier with the anti-rollback devices.
The first drop acts like it wants to give you some airtime, but only hints at it. I rode in each of the 8 rows, and none really gave any airtime, but the original Zinger was about speed and curves and the new Zambezi Zinger delivers.
The entire first half of the ride is smooth, and the curve wrapping around the lift hill structure is another throw-back moment, though it is much faster. Dropping off this hill the transition from the Titan Track to the wood track is a bit jarring. The long curve after the pop over the train track and the curve in the tunnel have a bit of jackhammering, which surprised me as this is a brand-new coaster.
The seats on the trains are very comfortable. At this time, they are operating with only the single T-shaped lap bar. I did find that the restraint continues to tighten around the last few large curves.
Overall, it's a great addition. It really doesn't ride like the Timber Wolf or the Prowler. It definitely has its own feel. The first half is very smooth, the second half I didn't find to be quite as smooth. It will be interesting to see how it is riding towards the end of the season. Perhaps as they replace track in the future, they'll consider using Titan Track to smooth out the second half of the ride.
Guests at the park for the First Rider Expedition/Media Preview Day really seemed to enjoy the coaster. Especially the kids. They'd get off and immediately get back in line for another ride. So if that's any indication, I think they have a great new coaster on their hands!




(5/7/2023) A congratulations goes out to the Zambezi Zinger team at Worlds of Fun, who were able to send a train for a first test run yesterday. Check out the video of this slick beast making the rounds below… or as Worlds of Fun put it so well, the "Zinger has Zung".


(5/3/2023) Special thanks to one of our readers who sent in some fantastic pictures of the new Zambezi Zinger under construction from over the weekend.
(Photo: Justin White / Jdwhite1 on IG / Jdub816 on Twitter)

(4/30/2023) A great set of construction pictures showing off the progress on the new Zambezi Zinger were posted to Facebook this week.


(3/19/2023) Worlds of Fun has posted a new photo from the construction of the new Zambezi Zinger that shows off some incredible banking that the coaster will be taking at ground level, which is sure to increase the sensation of speed. Honestly, the more I see of the new Zinger the more impressive it is looking and I think WOF is really going to have a winner on their hands here.
Speaking of the Zinger, the park is also holding a benefit contest for the first seats on the Zambezi Zinger when it opens. There will be a total of 32 seats put in this "First Rider Expedition fundraiser" where 100% of the proceeds will be donated to Big Slick in support of pediatric cancer research. Each donation will give you an entry into a big drawing that will be held for the available seats, so follow the link for the details on how you can participate, with donations accepted until the end of April 2, 2023.


(1/27/2023) A couple of great construction images from Worlds of Fun have been posted to social media showing off the progress on the new Zambezi Zinger.


(11/18/22) Our first look at the Zambezi Zinger coaster cars can be seen below as posted on Twitter.


(8/14/22) I'm hearing that there may be a little bit more Titan Track on the new Zambezi Zinger (II?) than we first thought. Much like how the animation shows it going back to Titan Track on the big hill and curve around the spiral lift, we may see small sections of Titan Track added in to some of the coaster's other tight curves, as needed, to help prevent wear and tear on those high stress points. We really won't know more though until construction starts and we see what goes wear.

(8/12/22) I've got a quick but very important update about the new Zambezi Zinger coaster coming to Worlds of Fun next year. Well, a couple of things… starting with the name of the ride. While I previously called it Zambezi Zinger II, based on the logo shown having the two claw marks, thus far the park has referred to it only as "Zambezi Zinger". Personally, I'd rather this be Zambezi Zinger II, as it just sort of clears things up a bit. Plus everyone loves a good sequel.
The second item to correct is that the coaster will actually not be built entirely with Titan Track. The park's website makes it sound that way, but according to the official blog post from Skyline Attractions who created the Titan Track for GCI, the new Zambezi Zinger will be "a one-of-a-kind hybrid roller coaster attraction with a combined 2,428 feet [740 m] of classic wooden roller coaster track and Titan Track."
If you look carefully at some of the concept art posted, you can actually see some of the transitions between Titan Track and normal wooden coaster track. You can also clearly make out which sections of the ride at Titan Track and which aren't in animated POV video. This shows a transition from normal track to Titan Track shortly after the train leaves the station. Titan Track is used for the entirety of the spiral lift hill and the first drop, transitioning back to regular track at the bottom. It switches back to Titan Track going up and down the curve around the spiral lift hill and then seems to return to regular track for the remainder of the ride.
It's an interesting choice to not use the new Titan Track for the majority of the layout, though the nature of Titan Track does allow it to be added in the years to come to help smooth out any rough spots.

(8/11/22) The Zambezi Zinger returns to Worlds of Fun in 2023 in an all new form. As rumored, the Zambezi Zinger II will be a wooden roller coaster, featuring combination steel and wood structure from GCI. Like the original Zambezi Zinger, this new version will start off with a unique spiral lift hill. This will be a full hybrid roller coaster system, featuring the first full use of GCI's new Titan Track system. It will also feature GCI's new Infinity Flyer roller coaster trains as well, with a total track length of 2,428 feet, a height of 74 feet, and a top speed of 45mph.



(7/16/22) A couple of interesting factoids have leaked about Worlds of Fun new Project 50 on Twitter this week. A tweet went out claiming that the new mystery ride was now being referred to internally as "Project Dollhouse". While this sounded odd at first, another Tweet pointed out (with a cool photo) that the old Zambezi Zinger queue was turned into a "Doll Factory" themed maze for Halloween Haunt several times.
Now while we are talking Zambezi Zinger, you may also recall that the rumor we posted claimed that whatever this new coaster would be, they were also apparently calling it "Project 2.0" at one point, because it was supposed to provide a modern take on one of the park's lost but beloved coasters, such as Zambezi Zinger or Orient Express.
At this point, I think we can say that World of Fun may definitely be trying to bring back some Zambezi Zinger vibes, but instead of with a steel coaster (and I know many of you wanted an RMC Raptor here) this will be a wooden coaster, if those leaked plans hold true. So how can a wooden coaster try to recreate the Zambezi Zinger? While I don't know the whole story, rumors claim this may be a mostly low-to-the-ground terrain coaster experience that will start things off with perhaps the Zambezi Zingers most iconic structure… the spiral lift hill.
As far as i know, this would actually be a first for a modern wooden roller coaster, and someone please correct me if I am wrong. Spiral lift hills are quite rare these days and to my knowledge, they were previously restricted to steel coasters from select European manufacturers. Like the Zambezi Zinger, several other older-style coasters from Anton Schwarzkopf's early days (most of the Jet Star series) featured them, along with some iconic custom designs at major parks, most of which have been lost to time like the Big Bend (Six Flags over Texas) and the two Whizzer coasters built for the two "Great America" parks for Marriott. (Note: The Whizzer at Six Flags Great America is still alive and well however!) Mack Rides has used the concept for their indoor lifts on Europa Park's EuroSat and Euro Mir coasters, and Zamperla even borrowed the concept for their line of Volare single-car flying coasters.
The method of powering these spiral lifts has differed from manufacturer to manufacturer, so I am curious to see how someone like GCI will try to engineer it. We don't know for sure that it will be GCI, as it could be Martin & Vleminckx, Gravity Group, or even RMC, but for several years now Worlds of Fun has been working extensively with GCI on both Prowler (GCI built) and a multi-year refurbishment and reprofiling project on Timber Wolf. So with that in mind, GCI would have been the first company Worlds of Fun would turn to for consulting on a new wooden coaster project.


(7/7/22) I really don't know much about Project 50 at this point, but according to this tweet the updated plans filed seem to indicate that it will be a "Wood Coaster". Now keep in mind that while they don't mention the manufacturer in any way, so technically this could be a regular wooden coaster from the likes of GCI or Gravity Group for example, or it could be something more hybrid-like from RMC.
And well... technically, GCI now has Titan Track too. So it would be interesting if this ends up being GCI's big breakout moment for Titan Track.



2024/2025 - Project 2.0 / New Orient Express - Rumor - (7/17/22) The rumor mill is going a bit crazy at Worlds of Fun these days, so take everything with a grain of salt right now. A reader reached out to Screamscape to try and explain things a bit better, including all those codenames that have been dropping. According to this source the plans for "Project 2.0" have been bumped back from 2023, so don't expect to see it until at least 2024, possibly later, but they tell us the plan at the time was for "Project 2.0" to actually be some kind of updated Orient Express coaster.

(3/3/22) While it doesn't appear that much is happening at Worlds of Fun for this season, we have been slowly hearing some quiet rumors suggesting that the park will be adding something of interest in 2023. The latest news from a new source backs up another rumor I had heard a few months ago, that the park's next coaster project would be coming in 2023, and would be some kind of modern replacement for an old beloved coaster, thought to be either the Zambezi Zinger or Orient Express. According to our source, internally the project has been given the codename, "Project 2.0'.
This is also expected to be a major selling point for the park's 50th Anniversary celebration taking place in 2023, where the park will be heavily marketed as the hometown park to the people of Kansas City. They say the plan is to also get the Hunt Family involved in some fashion, who were the original creators of the Worlds of Fun park.