PART I - ABOUT ME
I was born in San Diego, California in 1970 and I knew I was obsessed with theme parks from a young age. Like so many parents do, mine took me to Disneyland several times before I could ever remember even going. The end result is that even on my first true memory of going to Disneyland, I already knew that I had been there before. It wasn't a strange place… it was a place of comfort and warmth. A few years later Disneyland opened a little ride called Space Mountain which scared the hell out of me. As a result I developed a childhood phobia of roller coasters, even though I had already been on the Matterhorn several times. The next year Disney ended up putting the monster in the Matterhorn and I refused to ride it anymore. (Yes, I was quite chicken as a child.)
For some reason Roller Coasters used to strike some kind of primal fear inside me, which apparently led to an obsession with them later in life. I used to watch them as if I was hypnotized, entranced by their wonderful movements through the air. As I got older and thought I had conquered my childish fears of coasters I visited Knott's Berry Farm and Magic Mountain only to have it start all over again when I discovered looping coasters. Then there was Colossus at Magic Mountain… it just frightened me by pure size alone. (Hey, I was only 12!)
Obviously I got over it and became a big coaster freak years later. I was hopelessly hooked and tried to visit one or two new places each year to try out all new coasters whenever I could. Currently I've been on almost 250 different coasters across the country and have visited most of the top 50 most attended parks.
Oh… and that fear of monsters also led me becoming a big Haunted House and Halloween fan over the years, going annually to Knott's Scary Farm and Universal's Halloween Horror Nights. As a kid I was freaked out by the thought of the Haunted Mansion at Disneyland. I loved Pirates for some reason, but Haunted Mansion just seemed like too much until my family tricked me into going inside by telling me that it was really just Walt Disney's mansion. Of course minutes later inside the "stretching" elevator a small child was heard screaming "You Lied! You Lied!"
The summer of 1990 stands out as another important milestone. This was the year my best friend and I decided to fly to the other side of the country and take our first trip to Walt Disney World together. Over the next 10 years this became almost an annual trip experience for various friends and myself. On one such trip in June 1998 I happened upon a lovely WDW Cast Member by the name of Kerry. We hit it off well, kept in touch daily and after a few more visits she decided to move to California seven months later. There is just too much to be said of what happened next, so I'll just jump ahead to August '99 when I proposed to her at the bottom of the Bridal Veil Falls at Niagara Falls.
On December 5th, 1999 Kerry and I were married in Las Vegas. We celebrated the night before the wedding with the thrill of a lifetime atop the Stratosphere Tower on the Big Shot. Of course the wedding was broadcast live on the internet through the chapel's website and Kerry and I topped off the event with a ride on the Manhattan Express in our wedding gear as soon as the limo returned us to our hotel.
In September 2000 we decided that the cost of living in California was just getting out of hand and we moved to Orlando, Florida (aka: Theme Park World Headquarters). This seemed to be the perfect place for Screamscape to call home. We bought a home and had two beautiful bouncing baby boys and settled in, but after 5.5 years and surviving several hurricanes, we felt like we were pressing our luck. While Orlando was a fun place for a young married couple to be, despite all the theme parks, Orlando was just not an ideal place to raise a family and we started to look for greener pastures.
In May 2006 we made the jump to Charlotte, North Carolina where Kerry had kept in touch with a couple of close friends from college. Up until this point Kerry had given up her career to stay at home with the kids decided she wanted to go back to work, leaving me to become the stay at home Daddy for now. Fortunately this also allowed me to devote more time and attention to Screamscape for the first two years. In August of 2008, after seeing the first waves of the recession crashing upon the shores of the world I decided it was time to get a normal "day job" again while still maintaining Screamscape at the same level as before. It goes without saying that I'm quite busy these days, so please be understanding if I don't have time to respond to all e-mail questions that may come in.
PART II - ABOUT SCREAMSCAPE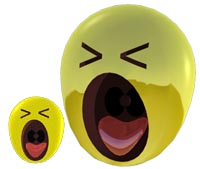 The origin of Screamscape actually has nothing at all to do with theme parks. I've always been a kind of techno-geek, interested in the latest technology and back in 1996 I wanted to try my hand at creating a website. So in June of 1996 I created "The Ultimate Guide to Movies" where I rated and reviewed for dozens of movies. It wasn't long before my obsession for theme parks crept in and I added a travel guide to Disneyland in September 1996. By December I had added a large guide to Walt Disney World and was soon hit with a brainstorm in early 1997 to create a page to track New Attractions under construction along with rumors about what was coming next. Before long "The Ultimate Guide to Theme Parks" website was born.

The website grew from just covering the local Southern California attractions to covering the main theme park chains. From there we started to cover all of the parks across the country and eventually global coverage. I was eventually contacted by the staff of First Drop Magazine, the print publication of the European Coaster Club, to become a US Correspondent for the West Coast. From here I began to grow an in person relationship with the local theme parks and was invited to cover the media events for many new attractions. I was there at the opening of New Tomorrowland, Supreme Scream, Riddler's Revenge, Goliath, Knott's Scary Farm, Halloween Horror Nights, the grand opening of Legoland California and many more.
As my focus on reporting on the industry grew, I knew the website had to evolve to the next level which meant buying a domain name. "UltimateGuide.com" was already taken so I had to come up with something new. Thinking back, someone had once asked me if I were ever to open a theme park of my own someday (yeah, right…) what would I call it. My answer was the key and on December 31st, 1998 Screamscape.com was launched. As always, I still try to be your "Ultimate" source for the best theme park news, often getting the story right months ahead of the real media. Also, if you've ever wondered why Screamscape had the "Ultimate Awards" instead of a "Screamscape Awards", it's because the first awards poll was taken in 1997 before Screamscape existed.
In retrospect, while I started out with the humble intention of making a simple Theme Park Guide, it's become apparent that I've created something much more. I've created a sort of global park awareness. A place where park guests and industry professionals from all over the world gather to read about theme parks both near and far. A place where people come to dream.
That alone is a great achievement and I believe that I've succeeded in creating some real Magic in the end, and of course we all have Walt Disney himself to thank for showing us that Magic still exists.