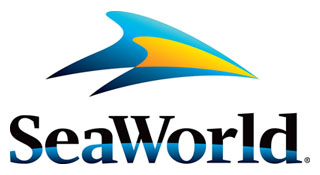 SeaWorld California
& Aquatica California
San Diego, CA
SeaWorld Parks & Entertainment
Park News - (11/12/19) According to a post at Behind the Thrills, SeaWorld San Diego has filed paperwork with the California Coastal Commission to put on a nighttime drone light show over the park on select nights in February 2020. The show will use a fleet of about 500 of the Intel Shooting Star drones that we've previously seen used for small limited-time shows at Walt Disney World, Universal Studios Hollywood and in Las Vegas.

(11/6/19) The SeaWorld Christmas Celebration is coming to San Diego from Nov. 23 through to Jan. 5, 2020 with an all new ice skating show called Winter Wonderland on Ice, the new Cirque Christmas, a visit to the Sesame Street Christmas Village and returning favorites like Rudolph's Christmastown, Santa's Cottage, Merry Manta and the 320 foot tall Skytower Tree of Lights. Click here to read up on all the official details.

(9/18/19) Good news for SeaWorld San Diego, as I've been informed that the park's Skyride is planning to reopen for rides once again today (Wednesday) after being closed for the last few months.

(7/12/19) While the SkyRide at SeaWorld San Diego is still closed for repairs and re-inspection, the local news has posted an article going over the details about what happened when a crazy gust of wind shut it down earlier this year, taken from the official incident report from Cal/OSHA.
2020 - Emperor / B&M Dive Machine - (11/28/19) Vertical construction has begun on Emperor at SeaWorld San Diego, with what looks like the maintenance shed frankwork going up along with one of the massive support pieces for lift hill. Take a look at the site in the video below.




(11/20/19) At long last SeaWorld San Diego has announced the NEW name for their B&M Dive Machine. Introducing "Emperor"... and yes, it is themed after the Penguin. But would you believe there are actually a few other Penguin themed coasters out there in the world? I see at least two in North America and one more in China.
I've also determined that this will be the first B&M "D6" Dive Machine to be built in North America, which unlike previous Dive Machines, these trains will only seat six riders across, and feature a smaller track size than the full size Dive Machines.


(11/18/19) Another picture showing off a new load of B&M track arriving at SeaWorld San Diego can be found in the Twitter post below. Now if someone could just get a nice close-up picture of the track tag on the end of each piece, I'd appreciate it.


(10/27/19) It's a beautiful day for San Diego as the first ever B&M track pieces have arrived in the city at SeaWorld in preperation for the park's new 2020 Dive Machine coaster, which you can see over at Behind the Thrills. Now if only SeaWorld would give us the final name for the coaster, as it seems that they have decided to not use the previously announced 'Mako' name and are still working on finalizing a new name for the coaster.
Previously I had suspected that an early name proposed and then dropped for the Texas park's new coaster, "Abyss", could be re-purposed for the San Diego ride, as it is a perfect sounding name for a Dive Machine, but a quick search of the trademark database no longer shows any kind of record of SeaWorld applying to use the name "Abyss", which I can only assume to mean that the name was met with opposition and denied. (Disney now owns Fox, who owns the rights to the film 'The Abyss', so take that for what you will…)
I also see nothing new in the databased filed by SeaWorld, so for the moment, it seems the name of the new ride is still a mystery.

(9/10/19) One of our readers did a little Drone flying this week and sent in a picture of the current state of the 2020 coaster construction site at SeaWorld San Diego for the B&M Dive Machine formerly known as Mako. Yes… formerly known as, as we previously reported that the park was seriously looking into other names for this mythical coaster, and rightly so. In fact, one rumor going around claims that they are also looking into alternate names for the wooden coaster under construction at SeaWorld San Antonio which was rumored to be named "Abyss".
Hmmm… Abyss… that would make a great name for the San Diego Dive Machine coaster don't you think? Now they just have to come up with a new name for the Texas coaster.

(8/23/19) Congrats to SeaWorld San Diego who reported last week that construction has now officially begun on their new 2020 dive machine coaster, which they are billing as California's tallest, fastest and longest dive coaster. But wait… there is more good news. The coaster may drop the name Mako in favor or something else, which is perhaps the only gripe I had myself about this ride, as the company has already opened a world class Mako coaster in Orlando that is an entirely different style ride experience.
For what will surely be the biggest coaster in the park for years to come, a coaster like this deserves to have a unique name and theme, and now SeaWorld admits that the name is up in the air once again with new options being considered. Good for them, and I look forward to seeing what they come up with, as the chain has long had a history of coming up with some of the most unique sounding coaster names for their parks.

(7/12/19) Good news for SeaWorld San Diego this week, as I'm told that the California Coastal Commission quickly and unanimously approved the park's plans to build the Mako roller coaster for 2020.

(7/1/19) A couple of Instram posts sent my way show off some drawings for the Mako coaster project planned for SeaWorld San Diego. One shows a lift-hill height of 153 feet, while the other shows off a layout drawing of the coaster track along with queue placement.



(6/22/19) Screamscape sources tell us that the California Coastal Commission will meet to discuss SeaWorld San Diego's plans to build the Mako roller coaster on July 10th. This is listed on the agenda as "Coaster Permit Application' #6-19-0010.

(4/26/19) I'm told that the San Diego City Council voted unanimously to approve SeaWorld's new master-plan, which includes the new Mako dive machine coaster project. With the city on-board with the new coaster, the project is said to now only have to get final approval from the California Coastal Commission.

(3/27/19) Sources tell Screamscape that the San Diego Planning Commission voted to approve SeaWorld San Diego's plan to build the Mako roller coaster with a unanimous 7-0 vote. The matter is now headed to the City Council to vote on.

(2/4/19) Based on the layout plans released thus far Coaster-Nation has created an animation showing off what Mako at SeaWorld San Diego could look like when it opens in 2020.


(1/24/19) A reader came across a document with the Mako proposal artwork (added here) which included the official initial layout for the proposed new Dive Machine coaster. It also lists the major elements as: Immelmann, Hammerhead, Barrel Roll and Flat Spin.

(1/7/19) SeaWorld San Diego dropped one hell of a bomb about what they are planning for 2020. They are planning to add a new coaster called Mako, but unlike the Orlando park's Mako, the version planned for San Diego will be a mini B&M Dive Machine coaster standing 153 feet tall and placed very close to the park's Journey To Atlantis ride, with a 143 foot vertical first drop. If approved as planned, it will end up being the Longest, Tallest and Fastest Dive Coaster in all of California… which simply means it will be bigger than Hangtime at Knott's Berry Farm. I would also bet that unlike the sister Dive Machine coasters at the Busch Gardens parks (Sheikra and Griffon) this one won't feature wide trains, but instead will likely be the more cost friendly "D6" design that only seats 6 riders across each row and uses a smaller size track.

2021 - Wild Arctic Replacement / New Launched Coaster - Rumor - (8/6/19) Back in March the park confirmed that they were looking to replace their old Wild Arctic simulator attraction with a new arctic themed attraction that would be only be 30 feet tall at most. A few ideas have been floated around since then, but a new update from our friends at Behind the Thrills strikes a chord with me, as they claim the idea is to add a new family coaster to the park that would re-purpose the large attraction building for part of the ride experience as well as extend outwards into the parking lot area beyond for the majority of the high speed ride track.
While they were thinking more along the rides of Premier Rides who just built Electric Eel, I've got an entirely other idea that would also perfectly keep the arctic theme. What if this were to be a Snowmobile themed launched coaster featuring multiple launches through a frigid arctic landscape of ice and snow? Think of this as a frozen themed version of Hagrid's Magical Creatures Motobike Adventure, but with the cars themed to snowmobiles instead of bikes. The idea isn't as crazy as it might sound either, as the popularity of Hagrid's would bring a lot of interest in having this style ride on the west coast, and Intamin did just create a launched Jet Ski themed version for SeaWorld San Antonio called Wave Breaker that opened in 2017. Here is another little known fact, as I was once told that SeaWorld's Wave Breaker did not start out as a Jet Ski themed ride at all… as the initial concept was said to be for it to have an arctic theme and snowmobile themed vehicles and be located elsewhere in the park, closer to their Penguin Encounter. If any of this is true, it does sound like the corporate office may have dusted off those old plans to build a new and exciting ride concept for SeaWorld San Diego.

(4/26/19) OrlandoWeekly is hearing that the long-term plan to replace Wild Arctic at SeaWorld Orlando may be replace the attraction's aging simulator fleet with a new modern Flying Theater style attraction at some point down the line. With the San Diego park also looking to replace their attraction sooner than later, I do have to wonder if the California park might get the Flying Theater first.

(3/22/19) According to the local news SeaWorld San Diego is looking into ideas to replace the park's Wild Arctic simulator attraction. A park spokesperson confirmed that after 25-years of service, they are looking to "replace the ride experience at the attraction" with a new kind of arctic themed ride, but one that will be lower than 30 feet in height. Little else was revealed other than that this project is something they are planning for 2021.
Previous rumors had indicated that the park may have been planning to also renovate the park's Penguin Encounter this same year, which sits across the plaza from the entrance to Wild Arctic. If this plan is still in the works, it would likely see the animal exhibit completely renovated, much like what was done in Orlando… but without the costly dark ride experience that was added in Florida.
Fun note… going way way back to the time I spent at this park, there was one a dream of creating some kind of attraction that could sit between the Penguin Encounter and Wild Arctic, that could offer two different experience, one that would offer a trip to the south pole and unload guests at the Penguin Encounter while the other would be a trip to the north pole, dropping guests off inside Wild Arctic. It is also worth mentioning that while the park says it is time to replace the ride… this could be misleading as the sister attraction built at SeaWorld Orlando is a few years older and still operational.

(3/14/19) According to the latest rumors, SeaWorld San Diego will be replacing the park's old Penguin Encounter attraction for the 2021 season. No word on if they will simply built a new modern facility, upgrade the old one, or look into building something new entirely. While there is always a chance they could try to mimic what was done in Orlando, I have serious doubts that they would try to add the same Antarctica dark ride experience to San Diego after guests in Orlando seemed to be very underwhelmed with the Orlando attraction when it opened.