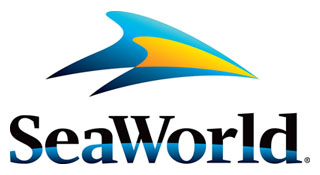 SeaWorld California
& Aquatica California
San Diego, CA
SeaWorld Parks & Entertainment
Ride Rehabs - The following information is not guaranteed to be 100% accurate, refurbishments are subject to change.
Emperor - NOW CLOSED through Nov. 24
Electric Eel - Nov. 27 - Dec. 8
See Arctic Rescue (2023) in Action Here
Click Here to read our review of Howl-O-Scream 2023
Park News - (11/7/2023) SeaWorld San Diego is bringing festive cheer and special traditions to families this holiday season at its annual Christmas Celebration with all-new and reimagined holiday offerings. Nominated for 2024 Best Theme Park Holiday Event by USAToday 10Best, the park will transform into a winter wonderland under the iconic SkyTower Tree of Lights decorated as a Christmas tree in all green with red sprinkles of lights, and event offerings include the All-New O.P Otter's Holiday Sing-A-Long, Mrs. Claus's Christmas Parade, live reindeer, a daily tree lighting of a twinkling 30-foot Christmas tree, and more. Holiday celebrations, including Hanukkah festivities, are running on select dates November 17 through January 7, 2023.
Follow the link for all the official information.

(10/27/2023) A video short posted by CoasterHub shows off the remains of the former Tidal Twister at SeaWorld San Diego. Based on what I'm seeing, it's clear that the ride is simply being torn apart, so don't look for this one to come back anywhere.




(10/24/2023) According to Theme Park Insider, the battle between SeaWorld San Diego and the city of San Diego over $12 million in unpaid rent / lease payments may now be moved to a Federal court. Or at least if SeaWorld has their way, as the company has filed a notice to move it from California Superior Court to the Federal system as the chain is incorporated in Delaware and has their HQ in Orlando, Florida. The move is also a more logical request for SeaWorld Entertainment, as a way to move the case to a more unbiased venue for the hearing.

(9/27/2023) All mention of Tidal Twister has now been removed from the SeaWorld San Diego website, including from the map, the list of rides, and any mention of it from the refurbishment schedule which previously had downtime's listed for it every month through to the end of the year. We can only assume that the park has finally opted to close the troublesome ride for good.



(9/8/2023) The fight between SeaWorld San Diego and the City of San Diego just went to the next level as the city has now filed a lawsuit against the theme park for $12.23 million in back-rent that the city says they are owed for the land lease the park sits on. Normally this would be a fairly straight-forward matter, but the dispute involves the time-period that the theme park was kept closed by order of the State of California accrued during the COVID-19 pandemic.
2024 - Jewels of the Sea: The Jellyfish Experience - (9/29/2023) SeaWorld San Diego is getting a new attraction in 2024 called Jewels of the Sea: The Jellyfish Experience. According to the press release, this new exhibit will be added to the park's Ocean Explorer area, which is immediately to the right after you enter the park.
"Glowing with an ethereal light, Moon Jellyfish, Pacific Sea Nettles, Upside-Down Jellyfish, and Comb Jellies will gracefully glide through the water, showcasing their hypnotic movements that seem almost unworldly. The experience features an 18-foot-tall cylinder, among the tallest jelly cylinders in the country, and a five-foot diameter sphere jelly habitat with water that pours from the top and sides for guests to touch. Guests can have the perfect photo-opp with a 10-foot-tall acrylic living arch of jellyfish for guests to walk through for views from multiple angles. "

2025/2026 - New Roller Coaster - (10/5/2023) Screamscape is hearing that long term planning may have begun to add yet another roller coaster to SeaWorld San Diego. The ride could open as early as 2025 or 2026, and the early rumor is that they may have asked B&M to come up with a layout for a Wing Coaster. Given that the park has a sensitive relationship with the local governing agencies, especially when it comes to building anything with height, I would suspect that if SeaWorld San Diego were to build a B&M Wing Coaster, they would take inspiration from Thunderbirg at Holiday World, which uses a magnetic launch system rather than a lift hill.
Another great possibility, and one that would definitely tie into the California surf culture, would be for the San Diego park to build a copy (or near clone) of the Pipeline Surf Coaster that opened at the Orlando park earlier this year (see video below). This next-gen stand-up coaster is themed like a giant surf board and also uses a magnetic launch to keep the action fast and low when needed. The real surprise is the hidden piston built into every restraint unit that quite literally lifts the riders off their feet for a true Hang 10 moment of airtime at the peak of every hill that is guaranteed to make you squeal with glee.
Stay tuned!

???? - S&S Screamin Swing - Rumor - (1/30/22) I'm passing on this rumor with a huge grain of salt, but according to the source SeaWorld San Diego now may be in line to add an S&S Screamin' Swing ride like the new Tidal Surge under construction at the sister park in San Antonio or the Finnegan's Flyer that was built for Busch Gardens Williamsburg. I'm told that if this goes through, the new ride could replace part of the land used for the park's failed Submarine Quest ride.
New Attraction Footage -
2023 - Arctic Rescue - (7/3/2023) Screamscape was invited to send a local member of the crew down to give the new Arctic Rescue roller coaster at SeaWorld San Diego a spin. The video below shows off a POV of the coaster in action from the front row and from the back as it passes through three launch zones throughout the journey.

Howl-O-Scream 2023 Review -
(10/4/2023) Screamscape was invited to try out this year's Howl-O-Scream event and I decided to send in my good friend Andy to check it out. For a little history, back in the day, growing up in San Diego, Andy and I would often frequent all the haunts we could find in town, which included several years of visits to the city's once famous 'Scream in the Dark' haunt, the Haunted Museum and others from years past. They managed to shoot an awesome video for us that captures all the fun of Howl-O-Scream and sent back a quick review as well, so enjoy!
–
SeaWorld opens its doors to sirens and slaughterhouses in 2023's Howl-O-Scream, featuring 5 haunted mazes, multiple vignette areas, spooktacular cocktails, roaming haunts, environmental effects, and dark rides. Contained in the southern section of the park, SeaWorld has concocted a trail of screams and haunts worthy of adults and children alike. Honestly, it takes a brave child to deal with what we had to endure. Some of this is NOT for the faint of heart. SeaWorld claims "nowhere is safe!" - and that is true as actors dressed as monsters can startle you at every turn. That is, unless you don a magic blinking medallion (available for
$15 within the park) to guarantee a spook-free experience.

For those brave souls who wish to venture further, the park provided Five (Count-em!) Five themed mazes of jump scares, curated scenes, animatronic ghouls, sparking chainsaws, and more. Within the various themed encounters careful attention to detail was taken, making sure you were looking in the wrong place so that the live ghouls could get the drop on you.

For the extremely observant- there are no less than TWO hidden speakeasies nestled within the haunts (don't forget the password: "Gauntlet"). Fiendish, yet delicious cocktails were available inside including frighteningly authentic "blood bags" filled with what we hope was a cocktail and not the real thing! Collectable, color-changing skull mugs were also purchasable.

Along the dark, smokey paths between mazes were a motley assortment of various monsters to keep you on your toes. Also speckled throughout your adventure are themed "Vignettes" like mini-musicals to enjoy while eating, drinking or planning your next move:

Dark Coasters! What's scarier than a 14-story vertical drop? The turn after- in pitch blackness! When you can't see it coming, it's even scarier. The park offered three coasters of various fear levels to satisfy guests, Emperor, Arctic Rescue, and Electric Eel. A great way to end your visit to the creepiest seaside spectacle you've ever seen this side of the pacific! We were truly taken to another world that hardly seemed like the park we visited a few months earlier.