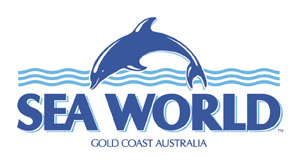 SEA WORLD of Australia
Gold Coast, Australia
Village Roadshow Parks
Park News - (6/21/20) Sea World of Australia is currently set to open once again on June 26. Reservations will be required in advance and park capacity will be limited to 50%.

(3/23/20) Amid new government restrictions to help slow the spread of the COVID-19 virus, Village Roadshow has announced the temporary closure of Warner Bros. MovieWorld Australia, Sea World of Australia as well as their Wet 'n' Wild waterpark and Top Golf attractions effective immediately.
December 2020 through 2021- The New Atlantis - (4/20/21) A fantastic collection of new photos showing off Leviathan at Sea World Australia can be found this week at Parkz. While there is still plenty of work to do on the new wooden coaster, the size and shape of the existing structure is already very impressive to see. The race is on to finish the coaster, so I can't wait to see it start testing.

(4/5/21) According to the Sea World Australia website, they list September 18, 2021 as the official opening dates for the parks new Leviathan wooden coaster as well as the dizzying new Trident tower ride. A reader also sent in a great aerial construction photo of Leviathan they found online and it looks beautiful!




(1/11/21) While the new Vortex ride has actually opened since this construction report was posted on Parkz.au last month, they do have a number of good photos showing off the progress on the park's new wooden coaster, Leviathan, and how it has changed the entire skyline of Sea World Australia.

(12/31/20) The first phase of Sea World Australia's New Atlantis area is now open, along with their new Vortex ride. Two more rides will join the line by June 2021, the Leviathan wooden coaster along with the huge Trident spinning tower ride.





(5/27/19) SeaWorld Australia has announced the creation of "The New Atlantis", an all new themed land coming to the park that will open this December. Built upon the legends of the Old Atlantis, the new land will rise and feature of a number of interesting attractions to open between December 2019 and December 2020. The list includes:

Vortex - Opening December 2019 - A new ride creation where guests will tumble and whirl through the air with pendulum movements, circular rotations and plenty of thrills. Based on the artwork shown, this appears to show a TopSpin style attraction built over a large pool of water and fountains.


Trident - Opening April 2020 - A towering feature of the new land, guests will ride high in the 52 meter tower ride as it spins you around. Based on the artwork, this appears to be a StarFlyer style attraction.

Leviathan - Opening December 2020 - An amazing new wooden roller coaster is coming to the park from Martin & Vleminckx that will feature Gravitykraft's Timberliner style trains and a 32 meter tall adventure around the ruins of Atlantis. Oh… and following the concept from DC Rivals, rumor has it that the Leviathan train may even feature a couple of backwards facing seats.