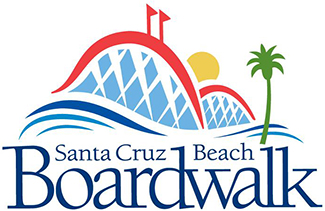 SANTA CRUZ BEACH BOARDWALK
Santa Cruz, California (Abbreviation: SCBB)
Park News - (4/2/21) The Santa Cruz Beach Boardwalk amusement park reopened to guests on April 1st, 2021. Reservations are required so head on over to their official website to see their current operational schedule and find out what dates still have open reservations. Also, keep in mind that only California Residents are allowed to visit at this time.

(3/14/21) Santa Cruz Beach Boardwalk is now working on plans to prepare the oceanside amusement park to reopen soon, as the state will begin to allow attractions to reopen April 1st if the county is in at least a RED Covid tier. They aren't ready to set a date just yet, but they are excited to open once again, as SCBB was the only amusement park able to reopen under the old restrictions, but just for a single weekend in November before infection rates got worse and they had to shut down again.

(11/12/20) The opportunity for California's first theme park to reopen was very short lived it seems. California updated the status tiers of all the counties in the state once again and unfortunately Santa Cruz County moved up the Orange status (Tier 3) to the Red tier (Tier 2) as infection rates around the state began to climb. This means that Santa Cruz Beach Boardwalk is now forced to close down again after being able to open for only one weekend. In addition to the rides at SCBB now being closed, I'm told that Neptune's Kingdom, which contains a small bowling area and the previously mentioned Buccaneer Bay Mini Golf course is also now closed as well.
Many other counties in the state have also risen a tier, putting almost all of Southern California into the Purple (Tier 1) again with the exception of Santa Barbara, Ventura and Orange Counties that remain in Red. I believe the way this works is that after rising up a tier, a county has to have three weeks of lower tier levels before they can drop down again, which means under the best of circumstances SCBB won't be able to reopen until December.
What we see here is also a future potential problem for smaller parks as well as the bigger parks if any county they are in can get to Tier 4 (Yellow) status. Under the current system they will always be subject to sudden closures again if local infection stats cause a tier to rise.
While the Rides and Amusements are now closed, the restaurants and shops at Santa Cruz Beach Boardwalk will remain open with capacity restrictions.

(11/7/20) It's official… the Santa Cruz Beach Boardwalk reopens today for those who live in Santa Cruz County and have a valid reservation. The park and select rides will only be open on weekends going forward right now, and you will have to buy a ticket good for one of two 2-hour windows to visit the park each day: either Noon to 2pm or 3pm to 5pm. Only outdoor rides will be operational, including the Giant Dipper and Undertow roller coasters, along with the brand new Lighthouse Liftoff. Indoor rides, including the carousel, will remain closed due to restrictions. Follow the link to the official website for more information about reservations and tickets.
Falling along the line of some of inconsistent restrictions and rules in California right now regarding the opening of parks and attractions, while only local county residents can enjoy the rides, the rest of the boardwalk's shopping and dining options are open and available to everyone. This includes the two-story 18-hole Buccaneer Bay Mini Golf course located inside Neptune's Kingdom which opens for the first time today as well. While this indoor mini-golf course is allowed to open (which features holes inside a black-light cave area), the arcades are being kept closed as indoor attractions due to COVID-19 restrictions.

(10/31/20) While we wait for SCBB to reveal their plans to reopen the boardwalk park, one reason pointed out one factor I forgot to mention in my last update. The guidelines for smaller parks has one more major difference from the larger park guidelines. While smaller parks can open in Tier 3 instead of Tier 4, along with a small attendance cap, the guidelines also state that only residents of the county where the park is located (Santa Cruz County) are permitted to visit. Also remember that only outdoor attractions are permitted to operate at this time, so no dark rides.
Currently the Boardwalk is open daily for dining and shopping however, so please check out the official website for details.

(10/29/20) Could the Santa Cruz Beach Boardwalk be the first theme park to reopen in California? According to Coaster101, SCBB does fall into the "small park" category set by the State of California that would allow it to reopen when Santa Cruz County enters the Orange Tier (Tier 3 / Moderate) and must limit attendance to 25% or 500 visitors, whichever is the smaller number.
According to the latest update to the COVID-19 status for counties in California, that time is now, as Santa Cruz has now officially entered their first week into the Orange Tier. According to Coaster101, the VP of Marketing and Sales for SCBB said that they don't have an opening date set yet, but it will likely happen "in a couple of weeks". Operations are sure to be a little different, as SCBB normally charges per ride and isn't set up like a traditional theme park. This is also the off-season, so you can also expect a limited number of rides to be offered as well.
Keep an eye on SCBB's official website and social media for updates about when they will be opening and hopefully offering Californians a little much deserved ride time on the Giant Dipper.
2021 - Lighthouse Lift-Off - (9/15/20) Santa Cruz Beach Boardwalk has posted a photo on IG showing off their new Lighthouse Lift-Off attraction, located at Entrance 3. While we have no idea when the park will be allowed to reopen, it does look like it will be ready to go when the time comes.

???? - Expand Undertow Deck - Rumor - Fitting in with the 2017 plans to replace the 2-story Frightwalk / Arcade / Laser Maze building with new single story buildings are rumors about expanding the second story attraction deck that currently is home to the Undertow coaster to eventually cover these new single story buildings and allow for the construction of more new attractions space on the second level. The timeline for this project is unknown at this time.