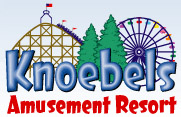 KNOEBELS Amusement Resort
Elysburg, Pennsylvania
Park News - (5/5/21) Any of my fellow coaster fans get out to Knoebels last weekend? After being closed for the 2020 season, I'm hearing that Flying Turns still wasn't ready to reopen just yet. It looks like much of the modifications that were started in 2020 are essentially finished, so it will hopefully be ready to open in the near future, assuming testing goes well.
According to other reports, the park's new Tornado ride is also not even close to being ready at this point, as workers are still setting up the forms for the ride's foundation. This is a bit disappointing as Tornado was originally planned to open for the 2020 season, but little has been done.

(4/25/21) Congratulations to Knoebels who opened for their 2021 season this weekend. You can catch some photos from the opening day posted to PennLive. Based on the photos, it looks like a good sized crowd decided to hit up the park on opening day, which is a good sign that business is rebounding as the public is ready to get out and visit theme parks once again.

(8/8/20) Knoebels has announced plans to host a Christmas event for the first time in many years. It will be called Joy Through the Grove and actually be a drive-through Christmas light display, perfect for social distancing. The event will feature over 15 miles of stringed lights across the property with over 400 light-up pieces, which will start near the Impulse roller coaster, travel down the park's main street and then through the campground. Look for Joy Through the Grove to open Nov. 27 and run nightly through to the first week of January 2021. The price has yet to be determined.
Speaking of Holiday fun it is worth mentioning that Knoebels will also hold a Hallo-Fun event on weekends in October starting Oct. 9th. Click here for the official details on both events.

(7/29/20) According to a photo update from Knoebels posted by Park Journey, there is still a lot of construction going on with the Flying Turns. According to the post, they feel it is unlikely that it will be able to open this year.

2021 - Tornado - Delayed
(1/10/20) According to this news article, Knobels will be removing the 1001 Nacht flat ride and replacing it with a new Wisdom Tornado ride near the StratosFear ride for when the park opens in April. 1001 Nacht is leaving mainly because the ride is near the end of it's operational life span and is no longer as popular with the guests.