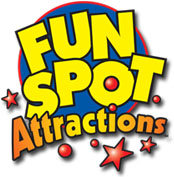 FUN SPOT AMERICA (Orlando, FL)
in Orlando and Kissimmee, FL
http://www.funspotattractions.com
Park News - (9/21/20) Some great photos of White Lightning at Fun Spot showing off the modified new track added to the coaster have been posted to IG by Midway Mayhem this weekend. This includes some close up shots detailing how the transition from regular wooden coaster track to the new GCI all steel track segments take place.

FUN SPOT ORLANDO (Orlando, FL)
2021- Sky Hawk - (6/13/21) Fun Spot America on Orlando's I-Drive has now opened their new Sky Hawk ride, a sort of 90 foot tall Star Flyer style combination ride that offers guests two ways to ride: seated in a pair of chairs attached by chains, or you can ride lying down and experience the ride in a superman style flying posture. Check out the Sky Hawk ride in action in the video below from the local Fox 35 news.
Near the end they also show off some new food items just added to the park, including food options from Sbarro and Johnny Rockets.




(4/2/21) Fun Spot America will soon add a new ride called Sky Hawk to their Orlando (I-Drive) location. Sky Hawk is a new 90 foot spinning tower swing ride concept, this time from A.R.M. Rides. Sky Hawk will hold 24 riders at a time seated in 2-passenger swings… with a bit of a wicked twist. While some units will seat riders in traditional upright seating, other units have been designed to position the two riders side-by-side while lying down in the prone position. Look for Sky Hawk to open to riders sometime in May 2021.
(While this was announced on April 1st, I don't believe that this was intended to be an April Fools joke announcement, as the attraction is not only posted on the park's website, but also has a mention on ARM's website and was cross posted to AmusementToday as well.)

FUN SPOT KISSIMMEE (Kissimmee, FL)

2021- Nothing is known at this time...

FUN SPOT ATLANTA (Fayetteville, GA)

2021- Nothing is known at this time...
2022 - RMC Hybrid Coaster - (5/31/21) While nothing has been confirmed by Fun Spot or RMC at this point, Screamscape sources tell us that the new RMC coaster coming to Fun Spot Atlanta will be quite a surprise to most. If the rumors are true, we can expect a fairly large RMC Hybrid style coaster to appear on the site, which means that the first phase of site clearing and construction will likely have to begin very soon, if it hasn't already. So if you are local to the area, please do keep your eyes open for signs of the new coaster.

(5/25/21) According to a Facebook page from Fun Spot America, they have confirms plans to work with Rocky Mountain Construction on a new Roller Coaster coming to their Atlanta park in 2022. All of the options here are interesting, so will it be a Raptor style single rail coaster, a Hybrid coaster, a wooden coaster, or could this be the site of RMC's first "family hybrid coaster"?