FRONTIER CITY
and White Water Bay
Oklahoma City
Owned by EPR Properties
Managed by Six Flags Theme Parks
Park News - (5/19/21) According to the latest post on Facebook by Frontier City, effective Saturday May 22, fully vaccinated guests to the theme park (and team members) will no longer be required to wear face masks. Temperature screenings will also end on this date, as well as the previous requirement for advanced reservations to visit.




(5/16/21) A new post to the Frontier City Thrills Facebook page caught a look at the new coaster train on site on the transfer track at the Wildcat. Unfortunately the trains cars were covered up, but based on what I can see, it does appear to be another PTC style train with three 3-Bench cars, so it should match the current train. I just wonder if they'll use a different color for this new one.

(5/14/21) The other day we mentioned an altercation that took place at Frontier City with a female guest and her "short shorts". At the time Six Flags had not been ready to respond to the story but now that has changed. According to this updated report, Six Flags claims the woman was asked to leave for more than just the shorts, but rather was asked to leave due to "unruly and offensive behavior" that was not part of the video clip shown previously.

(5/11/21) File this story under W… for "What in the WORLD?!"
A guest to Six Flags Frontier City was grabbed by "police" while at the park with her family… not because she cut in line, or shoplifted or did anything illegal… but rather they felt her shorts were "too short". This is late in the day, after spending hours in the park with no issues apparently, when the female police officer grabbed her arm in the middle of the park to go over her choice of clothing.
Keep in mind that Frontier City does have a small waterpark section as well where guests obviously walk around in nothing but bathing suits, so the already odd idea of having shorts that are "too short" is made even more ludicrous sounding.
In a video the guest's family shot and posted to TikTok you can see the female officer in question with clothing clearly labeling them as "POLICE" on the back of their shirt. The interesting thing is the guest later spoke with the Oklahoma City Police Department who assured her that the officer shown in the video altercation was not associated with the Oklahoma City police force. This alone opens up a bag of other questions about just who Six Flags has working on the park grounds.
Don't get me wrong… security is an important thing to have in any theme park, especially these days, but surely there are more important things they should be focusing their attention on than a mother in "short shorts".

(4/20/21) Frontier City has announced the addition of FriYAY Nights, where the park is now open from 5pm to 10pm on Friday Nights in addition to their longer-hour weekend schedule. It's always fun to visit a theme park at night, so take advantage of the night hours on Fridays from now through May 28th.

(3/28/21) New photos sent in from Frontier City show that the Tumbleweed ride has now been completely removed from the park.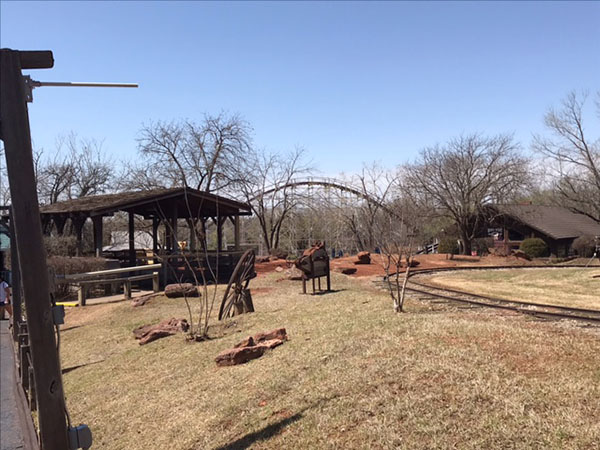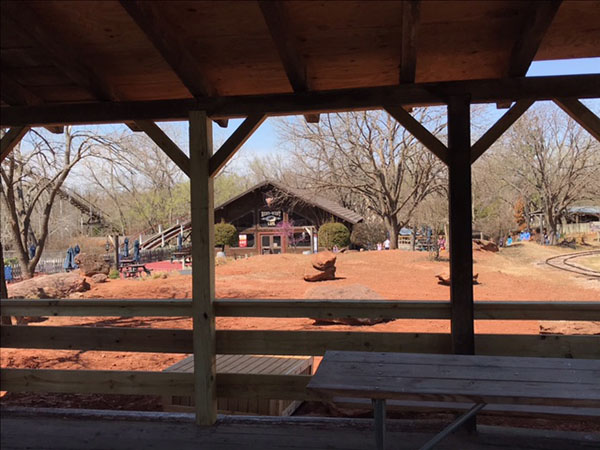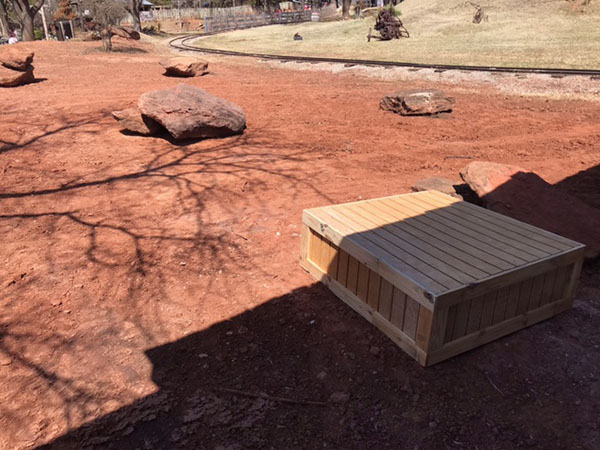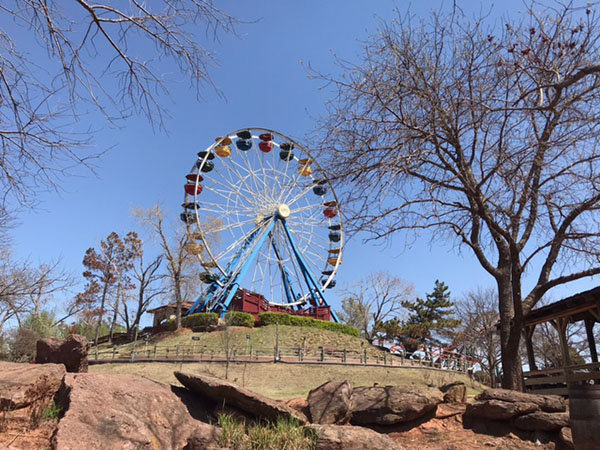 (3/21/21) I was sent a few Frontier City updates about a week ago, but I'm just getting to it now. According to our source you can look forward to the Gunslinger and Renegade Rapids returning to operate full time very soon. They reported that Gunslinger was awaiting a shipment of parts from Zamperla which they are hoping will get the ride reopened by mid-April. Renegade Rapids is said to have a major overhaul to the ride, along with some refreshing of the theming as well, which is always a good thing. You may notice a lot of original effects that had become dormant over the years now working again.
On the Entertainment side, look for the return of the park's Magic Show and they will also bring concerts back by late Summer 2021, but at reduced capacity compared to previous years.
On the removed ride side of things, it was confirmed that the Tumbleweed ride has been retired and will be removed. Tumbleweed was the park's aging Rotor ride, where riders stand against the wall inside of a rotating barrel shaped room and are stuck to the wall by centrifugal force. I know there are very few of these left anymore in the US, and the only one that comes to mind right now is the Turkish Twist at Canobie Lake Park, though they may be a couple more out there.
In other news the previous construction noticed in the Go Kart area is for a new warehouse and maintenance facility. Overall it was said that the park has refreshed a lot of theming to the buildings and facades around the park to give it a more clean and updated look. Even the talking Buffalo was said to have been given an update by the Sally Dark Rides crew.

(2/27/21) According to a Six Flags press release the wooden Wildcat roller coaster at Frontier City will feature "all new trains" this season. No further details were given, but according to RCDB the Wildcat had been running a pair of new PTC trains (Three 3-Bench Cars) since 1999, which replaced the original trains, though it is thought that one of the two PTC trains was sent elsewhere sometime before 2004, leaving it with one train. Keep an eye out for a new trains to be seen testing soon, as the park is set to open for the season on March 13th.

(2/2/21) According to a post on Facebook some land clearing is going on at Frontier City where the Thunder Road Raceway was. They say that the land from the old maintenance bay over to the go kart station area is all being cleared out, likely for some kind of new planned addition. One line of thought is that the park may be making room for some kind of attraction being removed and transferred from another park in the Six Flags chain. Anyone know more?

2021 - Wahoo Racer @ Six Flags Hurricane Harbor - (6/16/20) Six Flags Hurricane Harbor Oklahoma City has confirmed they will reopen the park on June 19. For some reason they've only posted this on their FB page, and have ignored their Twitter since 2019 and haven't even bothered to post anything about opening on their official website either as of this writing, so it's kind of weird.
Either way, a reader sent in a couple of photos of the park's new Wahoo Racer slides, which appear to have the slide part set up, and just need to finish the stairs up the tower and whatever landscaping needs to be done under it. Elsewhere in the park I'm told that the Bermuda Triangle slide complex is currently being repainted and having some new stairs added.
Out front they have taken down the old White Water Bay sign and should be putting up the new Six Flags Hurricane Harbor sign any day now.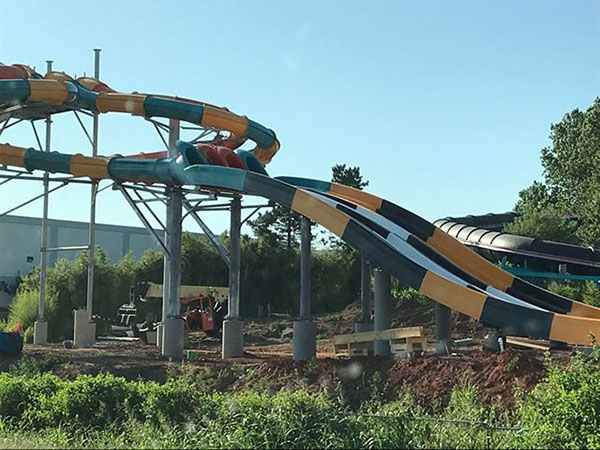 (8/30/19) I forgot to mention Frontier City in yesterday's huge Six Flags 2020 announcement coverage. While I didn't see anything announced for Frontier City itself, there was a new announcement for the White Water Bay waterpark… or rather two. For starters White Water Bay will be renamed Six Flags Hurricane Harbor starting in 2020 and will add a major new slide to the park called Wahoo Racer, a new six-lane mat racer slide.


2022/2023 - Goliath - Rumor - (5/30/21) To be honest, I had not heard this rumor at all until now, but there is a quiet rumor swirling that Six Flags might be considering a plan to send the outgoing Goliath from Six Flags New England and possibly send it (sell it technically) to Frontier City. We'll have to see, but as Six Flags has had endless issues with Golaith at SFNE, but a good run when it was at SFMM before that, there is always a chance they could get it refurbished and more reliable if they were to bring it to Frontier City. Now I have to wonder if they kept the original Vekoma-made trains for Goliath around, as the replacement trains SFNE purchased from Premier Rides were not the solution to the ride's problems.
Anyone know more about what's going on or is this just a coaster-boy fever dream? In some ways, I could see this working out for Six Flags, as they simply manage Frontier City for the park's true owner, EPR Properties, and if they could swing a deal to sell Goliath to Frontier City, they could be cashing a nice sized check for a ride that size. Plus, a ride as tall as Goliath would really change the skyline of Frontier City for the better by adding a much needed new roller coaster to an existing line-up that has gotten a little long in the tooth.