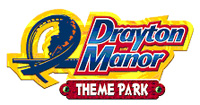 DRAYTON MANOR
United Kingdom
(Owned by Looping Group)

Park News - (2/24/21) With the issuance of new guidelines to reopen in the UK, Drayton Manor has announced that the theme park will open on April 12.




(12/20/20) I missed this the other day, but a small fire broke out in Drayton Manor in the Thomas Land area of the park on Tuesday night. The local fire and emergency services were able to get it under control with no injuries to any of the park staff or animals. In the aftermath it was determined the damage was limited to a restroom structure in the Thomas Land section of the park only. The investigation has determined the fire was started by an "electrical fault" within the structure. It's a relief that the fire was put out quickly before it spread and was able to cause park wide damage.


2021 - Adventure Cove - (4/9/21) Drayton Manor has announced Adventure Cove is coming to the park for the 2021 season. The new nautical-themed area will feature some thematic add-ons to some of the park's existing attractions as well as a few new ones. Replacing the area formerly known as Action Park, the park's former Splash Canyon rapids ride will be rethemed and renamed as River Rapids.
The Shockwave coaster station will be repainted in bright colors, and other existing rides like Stormforce 10, Maelstrom and Air Race will also become part of the new Adventure Cove land. From the sound of it, this may be a slightly last second add-on to the park, as they state that Adventure Cove will open in stages, starting in Spring 2021 and with other new additions to be announced as the year goes on.
Elsewhere in the park the existing 4D Cinema will add a new movie, "Thomas & Friends 4D Bubbling Boilers". Look for this to open in Summer 2021.