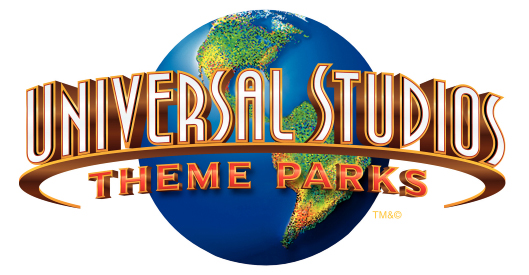 UNIVERSAL ORLANDO Resort
Orlando, Florida
Universal Studios Theme Parks
Review by: Lance Hart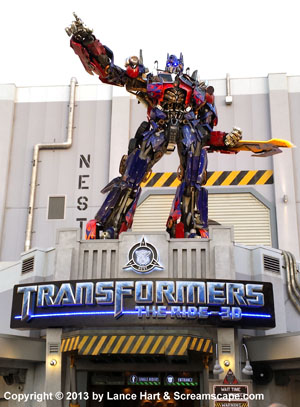 2013 - Transformers The Ride - 3D - NOW OPEN -
(6/22/13) I was lucky enough to have been invited down to Universal Orlando for the past couple of days to witness the Grand Opening of Transformers The Ride - 3D. While this was a grand Hollywood style spectacular moment for the record books, complete with Celebs and VIPs walking the Red Carpet, followed by a virtual attack by the Decepticons, I want to talk about the attraction and will leave you with a video below to show off the grand opening event.
While there is always another "NEW" attraction on the horizon, there are also special attractions built that not only stand the test of time, but quickly become a primary attraction for which a park is known for. These attractions serve as virtual icons for the park's in which they are built.

The Wizarding World of Harry Potter did this for Universal's Islands of Adventure and without a doubt Transformers The Ride - 3D has done this for Universal Studios Florida. By now I'm sure you've seen the massive two-level building that was constructed in record time in the middle of the park to contain it, standing out in sharp contrast to the nearby surrounding buildings as an visual representation of something new and very different as the N.E.S.T. base of operations.

This high-tech military base now sits a stone's throw away from Mel's Diner and the Soundstage building that house Shrek 4D, complete with a life-sized statue of the massive Optimus Prime character atop the entrance. This has gone beyond just being a "new" attraction, but really has now taken over as the "heart" of Universal Studios Florida.
In the last couple of weeks the attraction has quietly opened to guests as part of a "technical preview" or "soft opening" mode, but Transformers was already the buzzword upon everyone's lips at the Universal Orlando Resort. Not just kids, but adults stop to ask each other in the hotel elevators if the others have ridden it yet. The faces of children light up like Christmas morning upon the mere mention of it.

Upon asking several people myself, the reaction was the same for both adults and children... amazed looks would wash over the faces of those who had experienced it and they would utter words like, "awesome", "amazing" and "incredible". They would then trail off, unsure of what to say next, because the experience was something almost beyond words for them. Either you had ridden Transformers, or clearly you had yet to experience theme park Nirvana. Time to fix that with quickness, and Universal's executive team sure saw to that.

After opening the first version of the attraction at Universal Studios Singapore in December 2011, and a Hollywood version in Summer 2012, it was quickly decided that a third version was to come to Orlando. ASAP! So Universal Creative undertook what may have been their most hectic and demanding project to date in order to build the third version in 10 short months, almost half the time it took to build the previous two. At such a pace, it would only take one group, one contractor or one single vendor to fall behind and it would cascade into an avalanche of problems for everyone else. Every piece of the puzzle needed to arrive on time and fit just right the first time. Fall behind and risk "the wrath of Megatron" as Universal Creative's Mike West put it so well, so work crews were on site 24/7 to bring the world of the Transformers to Orlando in record time.

While the ride itself, from a hardware point of view, is essentially the same ride system that Universal rocked the theme park world with back in 1999 with the opening of The Amazing Adventures of Spider-Man at Islands of Adventure, which was then reanimated and brought to glorious 4K High-Def Digital Cinema projection beauty in 2012. It is a blending of a dark ride, with simulator style motion base ability, where you pass through real three dimensional scenes that are blended with enormous 3D projection screens that will bring all the action to life before your eyes.
Transformers takes everything Universal Creative learned from creation of the Spiderman ride, and then adds in a whole bag of new tricks. Perhaps one of the most impressive of them all is the one you will likely never even see. In an effort to save space in Singapore and in Hollywood where Transformers was first born, the ride was built inside a two level building where the ride cars are taken up and down via elevator style rapid lift platforms. That said… unless you are specifically looking for them, you will never find them. The majority of park guests will ride and love Transformers: The Ride – 3D, blissfully unaware for their entire lives just how the technical magic of it all works.

For the more well traveled fans out there, including many of our own Screamscape readers, I know there was some concern that having both Transformers and Spider-Man in Universal Orlando at the same time (though in different parks) would somehow lessen the experience for one, or both attractions, so I put those concerns to the test. Talking with random guests, not only was no one concerned at all, but upon describing Transformers to those who had not yet ridden as being "kind of like Spider-man" was all they needed to here. As one Mother told me while buying Butterbeer, "I love Spider-Man, if Transformers is anything like that I'm going over to ride it right now." And off she went, Butterbeer in hand and family in tow towards the front gate.

One of the most striking visual differences that sets Transformers far apart from Spider-Man immediately is that the world of the Transformers is based on the real world and not an animated one. The queue for Transformers takes you into a world of high tech displays, shiny chrome, and slick military design as you are introduced to the heroic Autobots and why they fight the evil Decepticons. Broken down into bare elements, the story behind the Transformers universe couldn't be more simple. It is the classic battle between the heroes of Good against the ultimate warriors of Evil. When dealing with giant sentient robots I find that this binary world view of things is a perfect fit.

Upon boarding the ride, which is actually an Autobot named Evac, you are tasked with the protection and removal of the remaining shard of the AllSpark. Unlike how Spider-Man takes you into an animated world of super heroes and villains, I found my eyes drawn to the real world backgrounds in Transformers. While Bumblebee (Autobot) is locked in battle with Ravage (a Decepticon) right in front of my face, my eyes would wander to the background where live humans can be seen advancing and firing upon enemy forces. Not only does this ad the much needed "human" element to the story being told, but it also sets in place for you a very important sense of scale, as the Transformers are giants compared to us mere humans.

The entire ride experience lasts a little over four minutes, with the battle kicking off within seconds and running at full tilt all the way to the very end. Upon exiting my first ride I knew I had to get in line to ride it again… and again. I'm not going to give away any spoilers, but the Transformers: The Ride – 3D is an amazing and unique experience that you simply have to see for yourself. In all seriousness, any visit to Orlando is simply and utterly incomplete without a stop at Universal Studios Florida and Islands of Adventure.