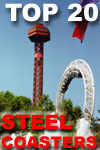 "Just some flesh caught in this big broken machine!!"

Trent Reznor (Nine Inch Nails)
"Happyness in Slavery"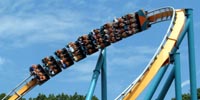 1) Goliath (Six Flags over Georgia) - A big change to the list this year as Goliath jumps right to the top #1 spot. Goliath takes this special honor from me this year for one reason above all else... it returned fear into my heart. I haven't felt fear on a roller coaster since 1994 when I took my first ride on Desperado. I felt no fear on Goliath going up the 200 foot lift in the front row and I felt no fear taking the incredible plunge back to the Earth. Upon cresting the top of that second hill however... and upon hitting the top of every single other hill all the way back to the break run I became very reacquainted with fear. While I have experienced 'ejector seat air time' on a few other rides before, this was the first time I had experienced this sensation from a B&M's Hypercoaster highchairs, and I honestly felt that I had to hang on for dear life or I would never see my wife and children again. Upon hitting the brake run my wife, who was waiting for me to do a child swap, knew something was wrong right away. According to her I looked very pale and had an expression on my face as if I wanted to throw up. Based on that alone she changed her mind about riding. I did conquer my fear later in the day however as I took on Goliath one final time before leaving that day (choosing to try the back row instead) and loved it. Goliath is simply an incredible ride and anyone who thinks B&M coasters have have become "soft" or "forceless" over the last few years should really try out Goliath and ride in the front... if you dare.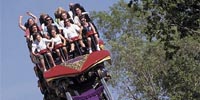 2) Apollo's Chariot (Busch Gardens Europe) -
Popularity of some rides come and go as they get older, but Apollo is still a top shelf coaster that can hold it's own years later against most newer rides. It may not be the biggest or fastest anymore, but it's all fun and has one of the best series of drops of all time.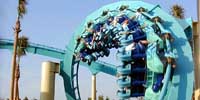 3) Kraken (SeaWorld Florida) -
Once again the Busch parks and B&M have teamed up to create a whole new breed of monster. Kraken is the biggest Floorless coaster built to date and many hold it to be the best of them all. Looking at the layout, it is almost as if Montu & Kumba had an offspring... bringing out the best elements from both.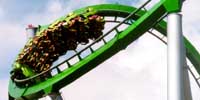 4) Incredible Hulk (Islands of Adventure) -
By far one of the most incredible sit-down looping coaster on the planet. Nothing can really touch the intensity of the launch, the dives, or the variety of its seven inversions. If the Adventures of Spider-man wasn't right next to it they would have to drag me out of this thing.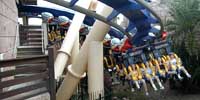 5) Montu (Busch Gardens Africa) -
The king of all B&M Inverted coasters, which I admit used to sit at my #1 spot for years until they added a few brakes to slow it down. Still, it has everything a coaster lover could want, starting with seven inversions, each which is attached to either a tunnel or a trench to increase the sensation of speed and power. Add in some great themeing, unique inversions, and it's easy to see why Montu is still the best Inverted out there.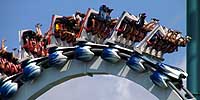 6) Alpengeist (Busch Gardens Europe) -
One of the most unique B&M inverted coasters ever built, featuring incredible heights, a good mix of inversions and high speed runs through a themed landscapes. While the view from the front is incredible, there is nothing like the wild out of control and disorienting ride you get in the back during a night ride in the dark.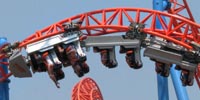 7) Fahrenheit (Hersheypark) - While it's not the biggest, Fahrenheit jumps right into my Top 10 list for its uniqueness. Starting out with a 121 foot vertical climb followed by the world's first 97º (Beyond Vertical) first drop, this is just the beginning. The surprises don't stop there as you enter the very unique Norwegian Loop element followed by a Cobra Roll, two intense Corkscrews and a wicked ejector-seat airtime hill before your done.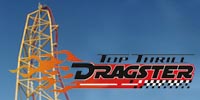 8) Top Thrill Dragster (Cedar Point) -
A face warping 120 mph launch followed by a climb straight up and straight down a 420 foot tower. With stats like that, Dragster is destined to be in the record books for years to come. Though the short ride is over in just 15 seconds, I was surprised to notice that I didn't feel the slightest bit cheated by it. As simple as the ride's layout is... Dragster does satisfy.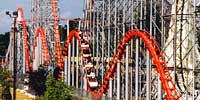 9) Steel Force (Dorney Park) -
Designed by Morgan, Steel Force may not be the biggest Hypercoaster but it really is one of the best examples of an out & back Hyper out there today. Smooth, fast and in a great location. Plus who really can find fault in the great series of Airtime camelbacks that run all the way back to the station.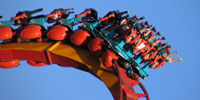 10) Silver Bullet (Knott's Berry Farm) -
I've never been quite sure why, but for some reason Silver Bullet never seems to come up in the lists of best inverted coasters, but I have to disagree. The layout is new, different, refreshing and has some unique elements not found anywhere else. This has got to be one of the most underrated coasters out there today.
11) Magnum XL200 (Cedar Point)
12) Fire Dragon (Islands of Adventure)
13) Griffon (Busch Gardens Europe)
14) SheiKra (Busch Gardens Africa)
15) X (Six Flags Magic Mountain)
16) Goliath (Six Flags Magic Mountain)
17) Storm Runner (Hersheypark)
18) Ride Of Steel (Darien Lake)
19) Afterburn (Carowinds)
20) Millennium Force (Cedar Point)