UNIVERSAL ORLANDO Resort
Orlando, Florida
Universal Studios Theme Parks
Review by: Keith

Halloween Horror Nights 20 (2010)

Fear is the theme of HHN XX. For the past nineteen years he has been the master behind every scream. Finally Universal has given him (Fear) the chance to take control. This year's event includes eight haunted houses, six scare zones, two shows and more! A new feature this year is the opportunity to tie the "noose" with Halloween Horror Nights themed wedding packages offering customizable options including, a hearse ride through the event and "his" and "hers" coffins for the bride and groom. Reception menu items include "Deadly Romance" spring rolls, "Bride of Frankenstein Lady Fingers" stuffed Jalapenos and "Creepy Wellingtons." In general the haunted houses in the sound stages had much better sets and effects and were a lot longer than the ones in the temporary buildings. As with any event that Universal puts on, the costumes and make-up effects were extraordinary.
I've gotten to go to HHN twice this year so far, and I have to say I feel better about the event getting to attend a second time without a guided tour. Reason why? Scare Zones. The scare zones are really good this year, in particular three of them; Zombie Gras, Esqueleto Muerte, and Saw N' Stream. I'll talk specifically about them later. One thing I noticed that I didn't particularly like this year was that there seemed to be absolutely no limit whatsoever as to how many Express P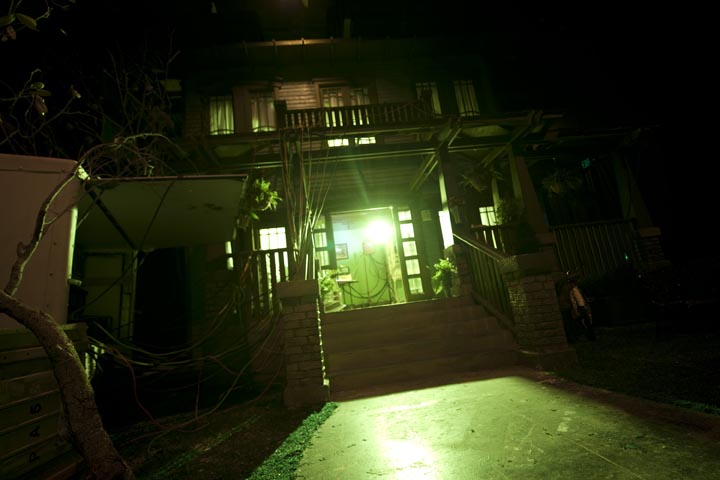 asses that were sold, and even if there is a "limit", it's too high. In the Horror Nights: The Hallowed Past line, I personally sat there and witnessed ten to fifteen minute periods where the line did not move up at all, while seemingly hundreds of people with Express Passes went in, and as long as they kept coming, we kept waiting. I don't know if I just happened to have bad luck that night or not, but it was infuriating that a $75 ticket only gets you a second class experience. It can cost up to $150 to add on Express Pass to your Frequent Fear Pass Plus. Which granted is good for Express every night of the event except Saturdays, but who can afford $150 extra? Just like FastPass, Express Pass is great IF you've got one, if not, good luck. If you live in the Orlando area, or even Central Florida for that matter, a Frequent Fear Pass is a must. With all there is to see and do, plus the horrendous lines, you won't get to do a fraction of the event in just one night.


Haunts:
Now on to the meat of the matter… lets talk about the Haunts. As done in past few years, I'll rank them 1 to 5 (5 being the best) on their overall creepy "Atmosfear", the "Story" they were trying to tell and just an overall "Fear Factor" level of how scary it was. These are just my impressions, based on my own reactions, personal fears and dislikes, so your own experiences may vary.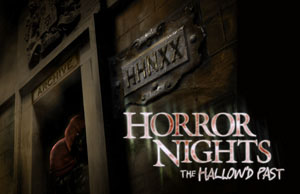 Horror Nights: The Hallow'd Past – Halloween Horror Nights
This was my favorite one because of all the nostalgia of the past events. This house is a creepy and wonderful trip through what seems to be a studio prop and wardrobe warehouse filled with everything you can imagine from all the years past events: Chucky, Titanic, Dead Silence, Saw, just to name a few. They had sections from the 3D fluorescent psychadelic haunt from years ago, minus the 3D. We got to go through the spinning tunnel again. You definitely have to go through this one several times to even begin to see every thing that is on display. I was amazed at how much they were able to put together for this one. An absolute must-see.
Atmosfear: 5
Story: 4
Fear Factor: 4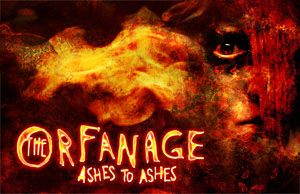 The Orfanage: Ashes to Ashes
This is the house in the Jaws queue, so as with other houses in the past, you get to take advantage of the "barn" feel. Its supposed to be a burning orphanage with the kids still in it, so there's lots of burning and crackling, and even a live fire effect at the end. One of the interesting things about the construction is that the wood that was used in the house was burned by Universal to give it the smokey smell and create the realistic feeling that you really were in a burning building. Most of the "kids" are wearing creepy animal masks which make it pretty unsettling. As the maze description also tells, this is where you will find Cindy from HHN Lore over the years. "Ashes to ashes, forever now dust. For years she has existed in the shadows, never getting her due. Misunderstood by all around her, she has had enough of her playthings at the Good Harvest Orphanage - now is the time for vengeance. This burned out shell contains the souls of the forgotten and the lost who all scream one name: Cindy. "
Atmosfear: 4
Story: 4
Fear Factor: 3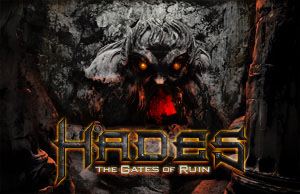 Hades: The Gates of Ruin
The entrance to this one was really cool. It was like a cave that looked like the devils face. Then you are ravaged by demons and other evil creations as you go through this one. Definitely one of the scarier ones.
Atmosfear: 5
Story: 3
Fear Factor: 5



Psychoscarepy: Echoes of Shadybrook
This is a pretty cool house in one of the soundstages. You enter the soundstage and are tak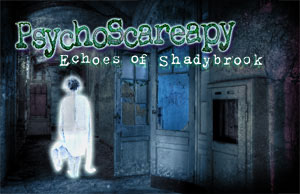 en back at the gigantic creepy deserted Shady Brook Insane Asylum staring down at you. They did a great job of making the outside of it look overgrown with brush and plants and other landscaping growing through the cracks. As you go through, the past residents are still there and trying to get revenge on you, because apparently you personally did these horrible things to them. You even get a glimpse at some of the horrible things that happened to these poor people including electrocution. As I said earlier, the houses in the soundstages are a lot better overall quality that the ones outside in the temp. buildings.
Atmosfear: 5
Story: 5
Fear Factor: 5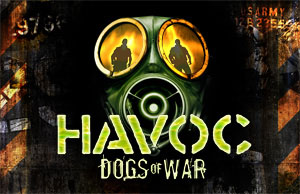 Havoc: Dogs of War
Ten years ago, the Shadowcreek Enterprise was tasked with developing an elite corp of soldiers. They succeeded. Through an inhalant that includes a compound of testosterone, adrenaline, and other anesthetics, Shadow Creek's latest run of volunteer test subjects are ready for inspection. The project name: HAVOC. The subjects are known simply as the Dogs of War. This haunt had the familiar apocolyptic war-zone theme that we see frequently during HHN complete with an automatic machine gun shooting blanks at the entrance. There is definitely the atmosphere created here that you need to hurry up and get out the area. You even get a chance to be shot at by a firing squad so watch out.
Atmosfear: 4
Story: 4
Fear Factor: 5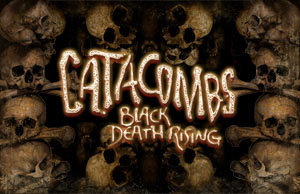 Catacombs: Black Death Rising
During a plague of Paris and Marseilles in 1534, thousands died due to an undisclosed viral outbreak. A group of doctors took it upon themselves to quarantine the most infected citizens of the city. They had no way of knowing that the townspeople would betray them, sealing them into their doom. They have been unable to escape for almost five hundred years. Now that the dead inside have found a way out, they are rising to take their centuries old vengeance on any living being that dares to enter the Catacombs. The scenery was pretty much the same throughout. The doctors who locked the infected citizens in these catacombs centuries ago had masks on that made them look like the characters from Spy vs. Spy. There were some air-blast effects that caught me off guard, but beyond that it was pretty much an average haunt.
Atmosfear: 4
Story: 4
Fear Factor: 3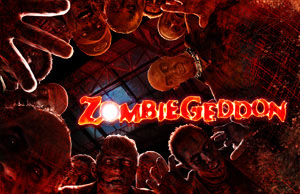 Zombiegeddon
The United States government has re-taken the continental United States, and is actively engaged in clearing the remaining infested pockets of Canada. The government also licenses and sanctions private companies to capture "un-live" subjects and use them as practical targets during these training sessions. Dozens of independent training consultant "companies" spring up, promising the best training that money can buy...and then there's ZAP...The Zombie Awareness Program. In the queue you get to watch a movie about how to kill zombies and how to survive. It was an interesting concept, and definitely had a storyline.
Atmosfear: 5
Story: 4
Fear Factor: 4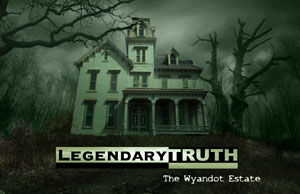 Legendary Truth: The Wyandot Estate
This was another impressive facade in the soundstage of a mansion where ghost hunters have set up shop to prove the existence of ghosts. I really like this one because they "got" me several times with loud scares along with sudden bright lights and special effects that you just simply aren't expecting. At one point the floor is clear and one of the ghosts flies underneath your feet and its a really really cool effect. The ghosts are really creepy looking and they have glow-in-the-dark faces. This one is definitely good for some great scares.
Atmosfear: 5
Story: 4
Fear Factor: 5


SIX INESCAPABLE SCAREZONES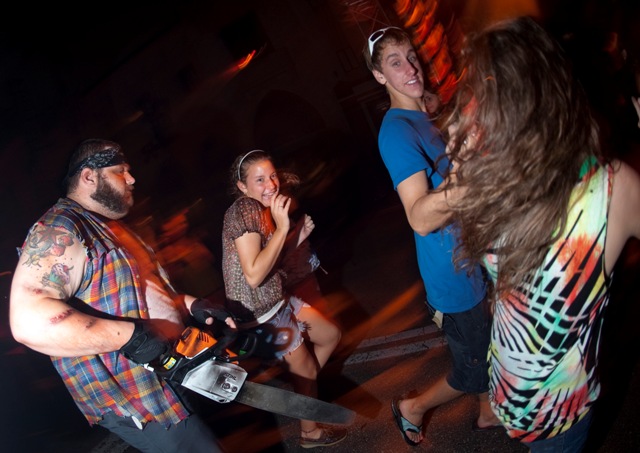 HHN: 20 Years of Fear – Step into the shadows of the last Twenty Years of Fear. Move toward the lantern, and encounter the most frightening characters of Halloween Horror Nights past.


Fear Revealed – The souls of Chaos, Death, Sacrifice, Mythos and Vengeance — He created them and gave them terror. Each with a part to play, they fulfilled their tasks. Their malice provided him bone, their rage gave him blood, and their terror fulfilled his soul. What has been 19 cycles for some have been eons for him. He's waited patiently for the final piece, and now on the 20th cycle… HE IS REVEALED.


Zombie Gras – This is definitely the most aggresive I have seen performers in a scarezone ever. They are high strung m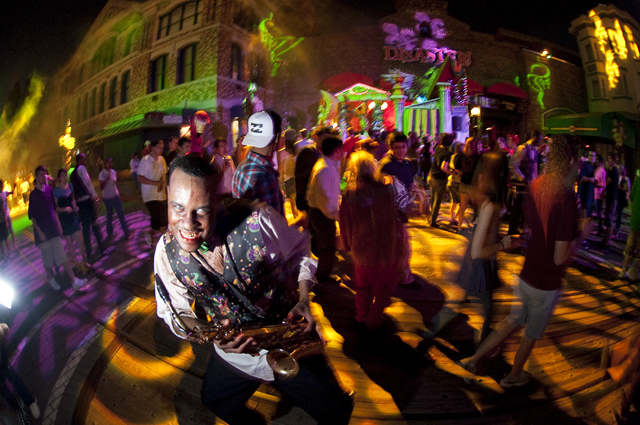 ardi gras performers and just creepy and fast and unrelenting and quite an enjoyable area. They also have a huge fire effect on the water right off the side of the bridge that will scare the daylights out of you the first time it explodes and you're not expecting it. I just about fell over.


Esqueleto Muerte – These characters are all in black light costumes that are very original, and there are some unexpected scares in an otherwise seemingly mild scarezone, but then when you least expect it, BOOM, they got you.


Saws 'n Steam – This was really cool because you are going through the alleys between the buildings in the San Fransisco area, and you feel trapped where you can't necesarily run off if you get scared, or even avoid some of the actors like you can in the other open areas.


The Coven – The Cult of the Raven has unsettled spirits, and its Sirens are screaming throughout the witches' realm. As you creep past their obelisk, beware their spells. For those who don't believe will be condemned to death.


TWO OUTRAGEOUS LIVE SHOWS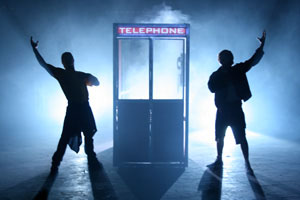 Bill & Ted's Excellent Halloween Adventure – A few of this year's special guests- The Situation, Snookie, Justin Bieber, Twilight characters, MacGruber, and many others. Funny as always and the finale is a great big dance production number like you always see.


Brian Brushwood: Menace and Malice – Two different shows that alternate throughout the night. I haven't gotten to do this one yet, however I did overhear another guest talking about it, and said it was more of a comedy show than a magic show, but that's just what I overheard someone else say. I am definitely wanting to check this one out. I've heard that Rocky won't be back for a minimum of two years.