UNIVERSAL ORLANDO Resort
Orlando, Florida
Universal Studios Theme Parks
Review by: Keith

Halloween Horror Nights 18 (2008)

Due to unforeseen complications, I had to cancel my trip to review this year's Halloween Horror Nights and I asked Keith, a good friend of mine to fill in for me and write up this year's review. Keith and I share similar tastes as far as Haunt events so I'm confident that this review wouldn't be too different from one I would write on my own, so without further delay, lets get on with Keith's review! - Lance

I am going to comment on some general observations before I get into talking about specific attractions.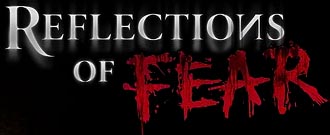 Queue Lines:
My biggest disappointment with HHN has always been the queue lines. They are too long, too redundant, too hot, and just hours of back and forth, back and forth. Let's face it, you spend the majority of your time at this event in queue lines, probably at least five or six!! Universal has realized this, and has made some steps to improve that this year. In addition to creating additional Scare Zones and offering more haunted houses than ever before, they employed the use of a sound stage to house portions of the queue for the three sound stage haunts; Creatures, Interstellar Terror, and Body Collectors. All three had different entrance points, but you ended up queuing in a sound stage that was air-conditioned, and had a giant video screen in the middle playing various Halloween themed videos like Michael Jackson's Thriller and other vignettes. It was nice being indoors where it was air-conditioned, but literally with there being so many crowd control barriers forming the queue lines, I felt like we were being herded like cattle at a stock show. It also was really bright with the gymnasium style lights.
I'm not complaining, it was really a great improvement over the usual. What would be an awesome improvement for next year would be to take it a step further and heavily theme the area like a nightclub, evil and haunted of course. They could have a DJ, better mood lighting, dancers, live music, horror skits, etc. Of course if it's too entertaining, they might have trouble keeping people moving, but 'too entertaining' is a risk I am willing to take.
All of the queue lines could be better produced to be part of the overall experience. Over the past few years have been making improvements like projecting images on the sides of buildings at some of the haunts, playing music, etc. that ties in with the house you are about to go in, but there are still a few that are just old school, back and forth, back and forth. I am excited to see what Universal will do for next year to take it a step further.
Scare Zones:
This year's scare zones were definitely very well themed and cohesive. There were more than ever before, and very well done. Depending on which route you take depends on which one you come to first. When you first enter the park, there are characters completely trapped in sleeveless silver body suits with mirror faces introducing you to the Bloody Mary theme of the event. As you head straight back to the New York City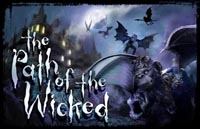 building facade you go through the Path of the Wicked. The Wicked Witch of the West is perched high on a spire of the castle that sits in front of the Shrek building. Hideous and twisted versions of various characters from the story are roaming the streets including the scarecrow, with shreds of Dorothy's infamous blue and white checked dress visible twisted in amongst his costume which is a foreboding of something you may or may not catch later on. High above the streets, there are three zip lines where flying acrobatic evil monkeys swoop down over audiences and to the other side of the street where they are perched on tall ladders waiting for another fly over the street. When the event first starts at 6:30, the sun is still out and you get a really good look at the costumes and the intricacy that has gone into the design. However, once the sun goes down and the special lighting and fog effects are put in place, you get an entirely different experience. Looking towards the Path of the Wicked from a distance, seeing the flying monkeys is just spectacular.
Asylum in Wonderland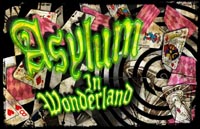 is a twisted take on Alice in Wonderland. This scare zone takes place in front of T-2. The streets are lined with giant white silk fabric stretched to create the illusion of a tunnel with a bright light at the end swirling like the blades of a jet engine down the entire street giving you a nightmarish sensation. The characters from the classic tale have been demonically twisted and are so eerie, they truly are very creepy and scary. Combined with fog and special lighting, this area is one of the best.
The Skoolhouse was my favorite. Everything about it was totally unique for this event,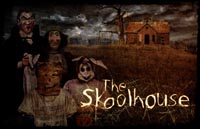 while surprisingly having a very traditional Halloween theme to it. Immediately past Mel's D I E-in (usually Mel's Drive in) and the Pantages Theater, on the right side of the street sits an old dilapidated school bus. On the left side of the street is a little creepy school house that invites you to come in and take a look. While this is just a very small building, it was really cool looking. When you go in an angry teacher slams a pole on the floor demanding to know why you're late. Gruesome and twisted, this classroom is an array of typical school room items that have been twisted by the touch of Bloody Mary. As you exit the Skoolhouse, you enter the playground where the students have cut class and are trick-or-treating in the spooky playground complete with swings and a merry-go-round. The little kids are dressed in completely twisted and warped traditional costumes. Animal masks that are not necessarily gory, but very disturbing and creepy. As you journey out of the playground, you are invited down the spooky street that is completely covered by giant trees that completely cover the seemingly endless path. All around you are literally hundreds of jack-o-lanterns that are flickering with candlelight. Other than that, you are shrouded in darkness. As you walk down the street an eery voice starts to slowly chant, "bloody Mary!.......bloody Mary!" and the third time the phrase is chanted, you hear a loud scream, and all the jack-o-lanterns suddenly go off, and you are left in complete darkness for a few seconds before they slowly flicker back on. This is the best scare zone they have ever done, because there is a definite story line and there is a journey you take, not just random characters running up and trying to scare you.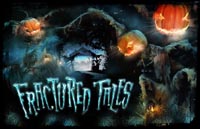 Fractured Tales immediately follows the Skoolhouse as you approach the E.T. area. This scare zone is a little more typical for Universal with characters roaming around trying to frighten you. The costumes and make-up were very elaborate, though. After you look at the characters for a second, you say "OH! I get it, how clever!" At the end of the zone, there is a giant jack-o-lantern filled with body parts.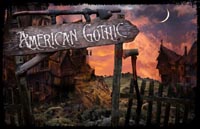 American Gothic was located were the Shrek meet-and-greets take place. This was probably the least elaborate zone with the exception of the giant figure that looks like an old twisted tree, which comes to life unexpectedly. This was an amazing character design. This haunt was inspired by the tale of Lizzie Borden. Another thing not going for this scarezone, is that it is a road to nowhere.
Streets of Blood I wasn't sure about how I felt about it at first, but as I came to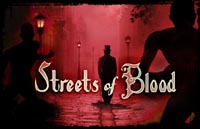 experience it a little more, I realized that it had such an atmosphere of the Halloween season that I had to give it credit. First of all this scare zone employs the New York area and court yard at the entrance to Body Collectors which starts with a similar theme. It is a very large area, but they have added Old Victorian style street lights along the path with townspeople of the same era. There were a lot of special light and fog effects used in this area as well as an old Victorian style coach. The best thing about this area was the infamous classical piece Danse Macabre, Op. 40 by Camille Saint-Saenz. If you have never heard this piece of music, you must seek it out online as it is the epitome of classic Halloween atmosphere. It made the area so powerful with emotions I've always associated with Halloween. This is also where you will find the Rat Lady this year. For some reason it drew more attention than I have ever seen. First of all, she was in a very old looking glass case with wood frame with tall wooden posts on all four sides. At first all the rats were sleeping bundled up in the two front corners with all the guests banging on the glass trying to get them to move. Later on however it was business as usual with them running all over the place. One comment on the rats however, as this year they seemed to be mostly of the small, brown cute variety and not the big and disgusting ones I remembered from past years.
Shows:
Bill and Ted's Excellent Halloween Adventure -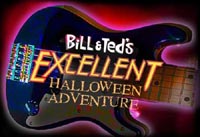 Loved it. They truly delivered a great show. Same format as always, but with this year's pop culture icons. Just to name a few: Speed Racer, Hellboy, the Joker, Sex in the City (referred to as the Golden Girls several times), Indiana Jones (who comes out in a motorized cart), Rihanna, Miley Cirus/Hannah Montana, John McCain, Barack Obama, Mulder and Scully, Will Smith (Hancock), an unnamed pregnant teen (Juno apparently and not Bristol Palin) shows up right in the middle of the McCain/Obama skit), Hillary Clinton (drunk and accusing Obama of being a woman beater), Alvin and the Chipmunks, Iron Man, Sweeney Todd, The Love Guru, Kung Fu Panda, Rambo, Angelina Jolie, and Hulk Hogan. The show was fast-paced with no boring parts. Of course, a long dance segment at the end, but it was truly a great time.
The Rocky Horror Picture Show Tribute -
Wow! What a great show. This is in my opinion the best musical show that Universal has ever done. The talent was absolutely incredible. The show was fast-paced, and inclusive of all the major musical numbers of the movie/musical. They had a giant screen at the top of the stage that depicted the actual movie where some of it was enacted on stage while the actors lip-synched as you see in the live-action movie version. Most of the acting was done by the live actors while they posted still shots from the movie depicting what scene they were doing. I enjoyed it so much, that it will be on my agenda every time I attend the event this year. A word of caution for the parents. They don't hold anything back and don't censor anything. If you have ever been to the Rocky Horror Picture show, you know that the audience participates and yells things out, and this version is no different. While truly enjoyable for adults, they do post a parental discretion advisory.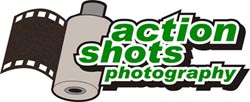 Before I review the mazes, lets take a quick look at the general photos taken all around the park. I want to thank my good friend Michael Fettig of Action Shots Photography (based in Orlando) who served as my photographer for the evening. If your in need of an excellent photographer while in the Central Florida area for whatever reason, please do check out his services.
Haunts:
Now on to the meat of the matter… lets talk about the Haunts. All of the haunts were put together very well, and I can honestly say that none of them were bad. By far though I felt, Scary Tales was the best. As done in past few years, I'll rank them 1 to 5 (5 being the best) on their overall creepy "Atmosfear", the "Story" they were trying to tell and just an overall "Fear Factor" level of how scary it was. These are just my impressions, based on my own reactions, personal fears and dislikes, so your own experiences may vary.
Scary Tales -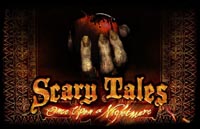 Scary Tales is a superb collection of twisted fairy tales that don't come out the way you remember. The exterior of the haunt is a giant facade of a fairy tale cottage. As you enter, you go down the hallway of a castle draped with tall billowing curtains that offer a sense of foreboding. You enter a chamber where a man is being tortured on a loft in front of a gothic large stained glass window that offers the hint of being in a church, which while there is no reason to believe that this is just supposed to be a castle, it makes it that much more creepy. You go outside the castle in apparent graveyard and into another portion of the castle where the fairy tales begin. You first see a wall lined with coffins and cadavers. The first one is unmistakably Snow White. If you hit it at the right time, the spirit of the disembodied princess might emerge from the lifeless body and reveal herself. Beyond that you are treated to Alice in Wonderland gutting the White Rabbit on a large round bed and devouring his intestines. Drenched in blood, this is truly a horrific sight. You get to go through the witch's kitchen from Hansel and Gretel, and in here, it's not the witch in the oven, but rather Hansel and Gretel who are screaming as they are being burned alive, writhing in agony. Goldilocks makes a nice lunch out of the bear she managed to mutilate, but watch out, papa bear got away! Mirror, mirror, on the wall.....be careful, when you enter the chamber of mirrors, there are going to be some surprises. The Wizard of Oz takes a twisted turn along the yellow brick road. Dorothy ends up impaled on the post that the scarecrow used to call home. You take a journey through the nearby cornfield that is now home to hideous versions of the other characters. As you re-enter the castle, the evil queen has cut out the eyes of other intruders and you better hurry if you want to make it out alive.
Atmosfear: 5
Story: 5
Fear Factor: 5
Doomsday -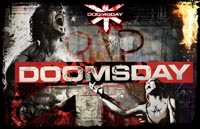 While I haven't seen the movie, they play clips from the movie projected on the side of a building while you queue. From what I saw, the haunt was true to the spirit of the movie, complete chaos and anarchy. A virus has ravaged post-apocalyptic Scotland and those who are left are reaking havoc. This haunt has a very rock and roll type feel to it as there is a big concert going on at the end which is part of the movie. There are plenty of scares in this place, and the characters all have the tattoos and hairstyles typical of what you see in the movie clips. I really enjoyed this one, even without seeing the movie.
Atmosfear: 4
Story: 4
Fear Factor: 5
Body Collectors -

The premise of this haunt is that ghoulish entities have been using mass-murderers to hide their activities. Body Collectors has a lot of atmosphere, as you enter the streets of an English town at night with prostitutes lining the streets. We know where this is headed. There is lots of torture and gore in this one. If you don't like to see human suffering, stay out of this one. But if you're like me and can't get enough, you'll probably want to do this one twice!
Atmosfear: 5
Story: 3
Fear factor: 5
Interstellar Terror -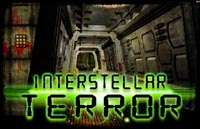 I went into this one thinking it was going to be cheesy, but I actually like it, and so did those around me. If you can accept the fact that this is a genre of science fiction that doesn't take itself to seriously, you can enjoy the halls of this spaceship wondering what is going to be around the next corner.
Atmosfear: 3
Story: 3
Fear Factor: 4
Creatures -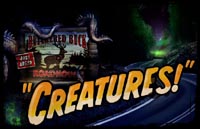 This was my second favorite. The atmosphere is wonderful. You enter this bar that has been devastated (which you will recognize as being redecorated after being used for many years as a house facade) There are dead mutilated dogs on the front porch, the locals join you and interact with you, bottles are broken, tables overturned, ceiling fans fallen from the ceiling, eerie bartenders leering at you from the corner, and jukeboxes playing haunting country music from the corner. You hear the sounds of gunshots as characters emerge from the restroom hallway shooting at something. As you wind around through the back storage area, you find yourself in a motel hallway where more shotguns are being shot off. Be careful around the second or third door on the right. This effect will leave you on the floor or plastered to the wall on the other side of the hallway. You continue through several scenes where the locals (think Deliverance meets Critters) are popping up all over the place while some continue to eerily sloth around. Towards the end, you find out what has been causing all the problems.
Atmosfear: 5
Story: 5
Fear Factor: 5
Reflections of Fear -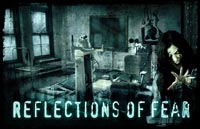 Reflections of Fear is the Bloody Mary house which had the longest lines of the entire evening. It is adjacent to the Bill and Ted's show, so the area is always crowded. Even at closing time there was more than a 90 minute wait. My advice would be to do this one first, because a Bill and Ted's show dumps right before closing and you don't get that last half hour or so to enjoy short lines like the other haunts usually do at that time. This haunt is another collection of death, terror, and torture. This haunt depicts a live actor in a white gown strapped inside a bath tub while a constant stream of water is poured on her from above. This was a really good scene because it really looked gruesome and torturous and it was real. This is in the same place as Friday the 13th was last year next to Jaws, so it has a very barn-like feel to it throughout.
Atmosfear: 4
Story: 4
Fear Factor: 5
The Hallow -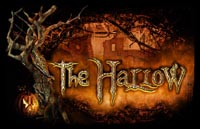 The Hallow was an interesting one because they used a lot of dirt smell pumped in to help you realize you were in underground trenches and that was kind of cool. They had a lot of characters with the pumpkin heads, and while I don't remember a lot of specific details about this one as I only did it once, I know I didn't hate it.
Atmosfear: 3
Story: 3
Fear Factor: 4
Dead Exposure -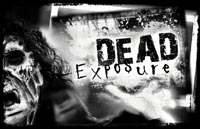 Dead Exposure was another one of my personal favorites because of the way it made me feel. I never am truly scared in a haunted house, but when I am able to feel strange and uncomfortable, I really enjoy that. This is the story of a place where only the flash of a camera can reveal what is around you. You are in total darkness with the exception of every few sections a blacklight flash will go off and you can see the fluorescent paint outlining the scenery and characters around you. The dominant sounds of this haunt are the flash of a camera and that sound that flash bulbs make while they are recharging. The perfect description is the scene in Silence of the Lambs where there are taking pictures of the first dead body and the sound that camera makes is what it is. Dead Exposure is creepy, and weird, and there are times where there will be several motionless figures around you and you can't tell which ones are fake, and which ones are about to come after you. I am looking forward to doing this one again.
Atmosfear: 5
Story: 4
Fear Factor: 5