UNIVERSAL ORLANDO Resort
Orlando, Florida
Universal Studios Theme Parks
Halloween Horror Nights 16
This year's HHN is a combination of a Sweet 16 celebration and a Homecoming of sorts for Halloween Horror Nights four top icon characters. HHN 16 also returned home to it's birthplace, Universal Studios Florida. As someone who enjoyed the past few years where HHN took place at Islands of Adventure next door, I found that I really enjoyed having it return back to the Studios this year.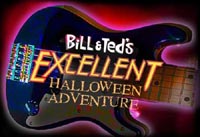 As a plus, Bill & Ted's Excellent Halloween Adventure also returned home to their original theater venue, though slightly updated by Fear Factor: Live. Honestly, this is where Bill & Ted belong… it just hasn't felt like quite the same show in the Toon Lagoon theater. Without giving too much away, Bill & Ted were… well… "Excellent" this year. We've got a ton of sweet photos for you that are sure to include some SPOILERS as well. So be warned, if you want to be surprised by this year's show don't look at the photos on the Bill & Ted page.
You can also read some questions and answers all about Halloween Horror Nights taken from our interview with TJ Mannarino, the Director of Art & Design at Universal Orlando. Click here to read it!
That said, lets enter Halloween Horror Nights 16 proper by taking a right turn and heading down the Hollywood street which is now decorated in order with the banners of all the past Horror Nights. Just past Mel's you'll make a brief stop at The Arrival stage where the four icons put on a brief show, off a few innocents (or not so innocents) and we run into our friend Darkness here as well. Unlike last years great human sacrifice display on the Terra Throne that really set the mood for the night, I wasn't as impressed by this show. Knowing all four icons myself, this seemed more like a brief HHN-101 class for the uninitiated to bring them up to speed with who is who.
Now before we dive into the haunted houses, I've got to mention this year's three Scare Zones. You'll find the Harvest of Souls just behind the Arrival stage area which is full of fog, pumpkin head fiends, little trolls and much more. The Scareactors here were great and really knew how to get the girls to scream. My only problem with the Harvest of Souls was that the area was just too small, especially in comparison to the huge cornfield version (Field of Screams) they had at HHN 14.
Going the other direction from Mel's towards Shrek 4D will take you through the Blood Masquerade… which also was entirely too short. I'm also not sure what was up with the all white wedding dress looking vampire girls. Call me a typical man if you will, but I prefer the goth looking vamp girls with the push-up bras and low cut shirts myself that they had at Castle Vampyr back in HHN 14. That said… Blood Masquerade also looked understaffed when I went through, with all the vamps on platforms and nothing roaming around in the fog.
The highlight of the entire evening however was to come… Deadtropolis. The dead have risen and taken over New York and all the Army can do is try to contain the "infection" at each entrance by telling you to stay out. Without blinking an eye I will say that Deadtropolis was beyond incredible. Everything that was wrong with the other scare zones and often minor problems I've had with past HHN events was solved here. It was a convincing, living, breathing cityscape that was in the midst of being overrun by zombies. Deadtropolis covers the entire large New York corner of the park where you encounter not just your typical people playing Zombie, but Scareactors of all ages dressed up like city locals and tourists so they blend into the fog filled crowds and can often get within just a few feet of their victims before they even know who's coming for dinner. The zombies are everywhere, from the main street pathways to others hiding in the alleys and side streets… they even have an assortment of "street walker" zombies for your enjoyment walking around as well as a few being placed up onto the back of a flatbed left in the middle of the street. Oh, I can't forget the zombie hunters… angry biker types who ride their hogs around the streets looking to distribute a little justice of their own and send the shambling mounds of flesh back to hell again. After my first pass through the area I had to come back two more times just to stand around and watch the action take place in various parts of the city. All said and done… Deadtropolis ROCKS!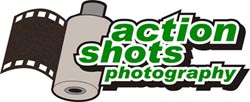 Before I review the mazes, lets take a look at some of the general photos taken around the park and of each of the three Scare Zones. I also want to thank my good friend Michael Fettig of Action Shots Photography (based in Orlando) who served as my photographer for the evening. If your in need of an excellent photographer while in the Central Florida area for whatever reason, please do check out his services.
Now lets move on to this year's seven haunted mazes. As I did last year I will rank them 1 to 5 (5 being the best) on their overall creepy "Atmosfear", the "Story" they were trying to tell and just an overall "Fear Factor" level of how scary it was. These are just my impressions, based on my own reactions, personal fears and dislikes, so your own experiences may vary.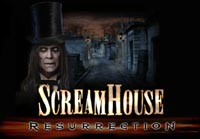 The first haunt we hit was Screamhouse: Resurrection which refers not only to the return of The Caretaker and his Screamhouse, but also in reference to the attempted resurrection of Albert Caine's daughter Cindy who is seen in portraits throughout the house as well as in a coffin within. Constructed inside a soundstage, Screamhouse has the look and feel of walking through a real house that starts you off by literally walking in the front door of The Caretakers mortuary home. Everything looks great and for the obsessed fans of HHN it was great to see references to Cindy throughout the house. Perhaps it was the geek in me, but I found I was so interested in checking out the incredible details in the house and the new greenhouse area (the smell of dead flowers and dirt was very powerful), that I really wasn't scared by anything.
Atmosfear - 5
Story - 5
Fear Factor – 4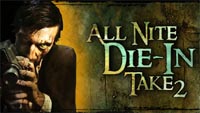 Next we decided to check in on The Director at the All Nite Die In: Take 2. Like the previous All Nite Die In, The Director has brought to life scenes from several great horror films of the past. Right off the bat we enter into a scene from Scream, followed by what I'm assuming was The Ring. (I've never seen The Ring… somehow the idea of being killed after watching a video tape wasn't a concept that appealed to me given my video production background). What I was impressed with was a large section of the maze dedicated to Clive Barker's famous Cenobites from the Hellraiser films. Dark rooms, lots of chains, spinning blocks with bits of flesh, body parts and faces nailed to them… all quite grotesque and yet appealing at the same time. "We have such sights to show you…" Unfortunately after such a strong build up of the experience with your passage through the world of Hellraiser, it goes down a notch by ending with Silence of the Lambs which I never felt was really a horror movie but more of a thriller. Perhaps they would have been better off ending with a walk through Saw, passing the aftermath and victims of his many traps.
Atmosfear - 4
Story - 2
Fear Factor – 4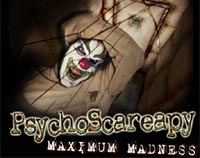 Jack was next on the list of party guest so we dropped into Psychoscarapy: Maximum Madness. This is the last of the three mazes contained without the soundstages and is extremely well themed overall. Unfortunately the story here is a bit confusing as we enter the nuthouse where everyone has obviously been infected with Jack's madness and yet we never seen to encounter Jack. The local crazies have gotten loose and taken over the asylum and started to decorate their all white PJs with with clown gear and makeup. Unfortunately as great as a atmosphere builder as they are at the start of the maze, they still seem harmless and fail to frighten. This fact is reinforced by a great moment within the house when you are surrounded in a large room by several of them when suddenly the music stops, the power to the building cuts off. In the darkness you hear them all start to chant, "Jack's back! Jack's back!" as they scurry off into the darkness to hide. Unfortunately Jack never shows his face and the most menacing thing you will face as you advance through the maze is the encounter with the bathroom! Don't get me wrong, this is perhaps the most disgusting bathroom in the entire world. We're talking about… well… crap smeared all over everything, a figure in a stall doing his business for the world to see and the most putrid and realistic smell you've ever encountered. The smell of the bathroom sticks with you all the way to the exit and was so bad that I found myself actually retching at one point as I tried to escape. If Jack's back… he left us one hell of a present.
Atmosfear - 5
Story - 3
Fear Factor – 3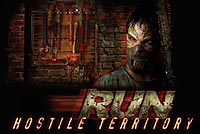 In the heart of the San Francisco area of the park in the old Earthquake overflow queue is Run: Hostile Territory. Eddie arrives on the scene with an all-new version of Run that isn't anything at all like it's previous version. This is no game your playing, but rather a modern day torture house where the rich can pay huge sums of money to torture the innocent in whatever form they see fit. Before you even enter the house you come across piles of random body parts layout around the outside. Once inside… be prepared to witness the extreme as HHN has injected this sound with an extreme amount of blood and gore. To my memory, this may be the grossest house I've ever encountered at Halloween Horror Nights as you pass through room after room of dismemberment, torture and extreme violence. One fond memory was of one particular room where someone who clearly was not a doctor was performing some kind of spinal surgery on a young runaway. The girl was wide awake and screaming her lungs out as we dodged the blood spurting from her exposed spine. Yes, you are almost guaranteed to get a little wet in this one because there are quite a few fluids flying from room to room.
Atmosfear - 5
Story - 3
Fear Factor – 5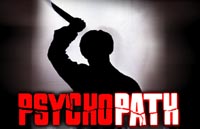 Psycho Path: The Return of Norman Bates was next, placed between Men In Black and Back To The Future. Even though this maze was built inside of a large white tent, the scenery was quite good. Unfortunately I've never been a huge Psycho fan myself and many of Scareactors jumping out at you early on looked like average people just opening doors, yelling at your and walking off. After a few rooms you seem to enter into mind of Norman Bates which is a disturbing place to be and from here on the maze relies more on disorienting your through a series of funhouse tricks like a whirling vortex room, the black-lit polkadot room, and quite a few strobe lights. Unfortunately I just found no good scares to be found in here.
Atmosfear - 3
Story - 1
Fear Factor – 2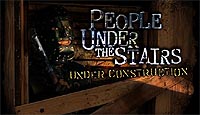 People Under The Stairs: Under Construction is placed in a second large white tent building right next to Psycho Path. The insides are themed like an episode of Tool Time went very wrong inside a house under construction. Unfortunately instead of lighting the maze as they normally would, they leave it all dark and are suppose to hand out the same LED lit helmets they used last year in Terror Mines. The problem here is that since they have to hand clean these things after each use, it seems they were getting quite behind and instead of handing out a helmet to light the way for every 5th person as we were told, they were handing them out about every 20th person. From my perspective I was so far away from the person with the helmet in front of me that I never saw it at all once we were inside, and I never once saw a light from anyone behind. So my experience with this maze was dark and almost dull at times. Unlike Terror Mines which was pitch black inside if there were not lights and that was frightening all by itself, PUTS was still dimly lit all over due to the white tent it was housed inside. The effect was that when something did jump out at you, you saw it coming but it was dark enough that you couldn't see any of the details of what you were supposed to be scare of, so it might as well have been one of the security people in black. The Scareactors tried, but without a rethinking of the lighting used in here, this maze will just suffer as a lackluster addition that could have been much better.
Atmosfear - 2
Story - 1
Fear Factor – 2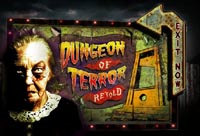 Our last maze was Dungeon of Terror: Retold built inside the large Jaws queue building. The Storyteller was the icon in charge of this maze, but as creepy as she is to look at and listen to, this maze just didn't work for me. This was supposed to be a recreation of the very first maze created back in 1991 at the first Halloween Horror Nights, or Universal Studios Fright Nights as they called it that first year. Unfortunately it also had the look of a haunted house created 16 years ago, with many of the rooms and props black-lit and fake looking. Perhaps if I had encountered this maze first it might have gone over better, but after passing through the realistic sets of Screamhouse, Psychoscareapy and the All Nite Die In, the Dungeon of Terror looked like a relic from the past. That said, if your running out of time and can't see all the mazes in one night, this is the one to skip.
Atmosfear - 1
Story - 1
Fear Factor – 1