UNIVERSAL ORLANDO Resort
Orlando, Florida
Universal Studios Theme Parks
Halloween Horror Nights 15
Experiencing Universal Studios' Halloween Horror Nights is a bit like testing out all 31 flavors at Baskin Robins with a friend. Your both going to have a good time, but what may end up being your favorite flavor of the night may not be the same one your friend picked.
Like ice cream, fear comes in many flavors, and the experts at Universal Orlando have tried their best to focus this year's seven mazes into a giant blood soaked gooey sundae of terror with a cherry on top. So lets pass on the nuts and dive right in.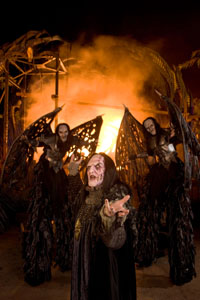 The first thing your going to notice is a large stage set up at the end of the Port of Entry with fire exploding from behind it every so often. Guarding the front is a small batch of armored guards and several tall female creatures (stilt-walkers) searching through the crowd looking for anyone who will make a good blood sacrifice. The mood for the night is quickly set here, because every few minutes they grab some poor soul from the crowd to make an example out of and call out for their Dark Queen to ride in on her bone covered chopper to witness their execution. As you depart the message is clear, not only are you no longer safe, but you are fair game to any of the various factions throughout the park attempting to gain the Dark Queen's favor.
Now lets move on to the seven mazes. For each one I tried to rank them 1 to 5 (5 being the best) on their overall creepy "Atmosfear", the "Story" they were trying to tell and just an overall "Fear Factor" level of how scary it was.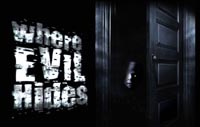 The first stop of the night was Where Evil Hides. Walking into the sound stage you find yourself standing outside of a house in the middle of a storm. Lightning flashes everywhere and the wind howls as you make your way through the scattered junk in the yard and through the front door for shelter. You may find shelter from the storm, but you certainly wont be safe inside this house as you pass from room to room, bearing witness to the carnage that happened to previous guests. The scenery and atmosphere are top notch in here, but things get a little odd as you realize that this house seems to borrow a few movie themes as you pass through an exorcist style kids bedroom and see Michael Myers stalking you through a few other rooms. Eventually you find yourself upstairs with the Storyteller herself before you depart back outside again.
Atmosfear - 4
Story - 2
Fear Factor - 3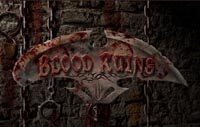 Blood Ruins - Like the previous maze, you enter the sound stage and find yourself standing outside what is left of an ancient stone fortress that has obviously seen better days. You enter the ruins with the stench of death in the air as you encounter the survivors of a plague that must have wiped most of them out. Unfortunately the effect and story is lost here as it came off more like you were being accosted by a bunch of crazy people dressed up as pilgrims. If your time is running short and you need to skip a maze, this one is a good choice.
Atmosfear - 3
Story - 2
Fear Factor - 2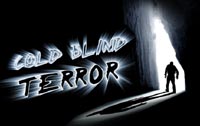 Cold Blind Terror is this year's attempt at a very dark maze with periodic blinding lights and a few disorienting rooms. Don't expect a lot of story or atmosphere since most of the time you'll just be walking through a black maze. The true terror in this maze is left mostly inside of your head, so everyone will have a different experience. While I wasn't thrilled myself, many of the people I talked to really enjoyed this one quite a bit.
Atmosfear - 2
Story - 1
Fear Factor - 3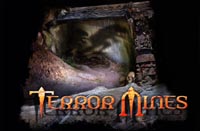 Terror Mines – It was great to see Universal finally take the highly themed environment of Poseidon's Fury and use it for a maze this year. Even better, they decided to try a new high tech trick that I had not seen anywhere else before. Before venturing deep into the underground mines, a member of your group is given a miner's helmet to wear, complete with bright head-mounted LED flashlight. From here you are thrown into the Vortex effect and enter the dark underground maze full of creatures that stay hidden from the light. All is well until your only light source starts to flicker and gives out completely by wireless remote control. This was a very cool effect, but I think they needed to give out a few more helmets in the group because the effect seems to vary quite a bit depending on how close you are to the person with the light.
Atmosfear - 5
Story - 3
Fear Factor - 4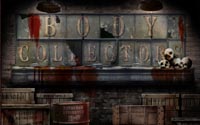 The Body Collectors – Without a doubt, this is the best maze of the year I think. A great back story lets you know all about the Body Collectors factory fortress, the place where all of the dead bodies end up for processing. Body parts and organs are harvested, collected, sorted and organized here with careful precision. There are some great moments of the "not quite dead" being harvested a little early, and the incredible room where all the skin is hung up to dry. Then there are the completely silent Body Collectors themselves which look like they stepped right out of the classic Buffy: The Vampire Slayer episode "Hush" which was well known for it's nearly half hour of complete silence. Obviously this maze is the gory one this year, an element that has been missing from Halloween Horror Nights since the event turned slightly light and fuzzy in 2001 in light of the events of September 11th. It's nice to see that Universal has "grown a set" again and are pushing the envelope.
Atmosfear - 5
Story - 5
Fear Factor - 5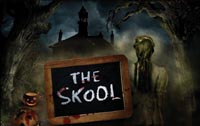 The Skool – This is where all the children of the various factions around the park are sent to school. It's a great theme and story idea, and I loved all the visuals as you entered the school building where it quickly became obvious that the students are now running the show. The only problem here is that this just was not frightening to anyone I talked to or even myself. As I said before… my plain Vanilla may taste more like Chocolate to someone else, but this one just kind of stood out as being mellow in the fear department. Maybe it was just that all the freaky kids inside were shorter than the average adult guest. Either way it was still a great theme and worth seeing if you've got the time. One thought though, I just kept wanting to hear them play Pink Floyd's "Another Brick In The Wall" inside but it never happened.
Atmosfear - 4
Story - 3
Fear Factor - 2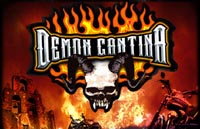 Demon Cantina – Our final Haunt of the night was the Demon Cantina, a unique biker bar from hell. Great themeing and atmosphere are all around as you enter what looks like a normal hole in the wall bar and are greeted by the bartender, only to have her turn angry with a quickness and waving a broken bottle at you. Things get progressively more interesting as you move deeper into the maze. Your eyes are quickly drawn to the dancing go-go girls in cages rocking out to the tunes. The moment your gaze lingers and you've forgotten just where you are, biker demons start to come out of the woodwork and jump in your face and chase you deeper into hell. After Body Collectors, this was my second favorite maze of the year.
Atmosfear - 5
Story - 3
Fear Factor - 3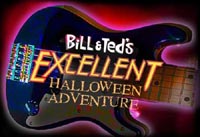 The final stop of the night was to see Bill and Ted Excellent Halloween Adventure. I've been a bit disapointed in Bill and Ted over the past few years, but for some reason this year's show seemed to click with me and I really enjoyed it. This was also the first Bill and Ted show I've enjoyed since HHN moved over to the Toon Lagoon theater. I've got tons of great photos of this year's show which also include quite a few SPOILERS.
So be warned, if you want to be surprised by this year's show don't look at the photos on the next page.