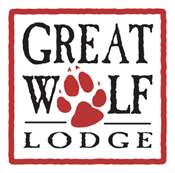 GREAT WOLF LODGE - Concord
Just east of Charlotte, NC
Report by: Lance Hart
Posted: 5/4/09

Last weekend I had the pleasure of staying at the newest Great Wolf Lodge waterpark resort in Concord, North Carolina, just outside Charlotte. Previously, I have only visited the sister resort in Williamsburg, VA which is kind of tucked away all by itself in the woods, but this new resort has been placed right in the center of the action between the infamous Lowes Motor Speedway and the enormous Concord Mills super mall. Despite that fact, once your inside the walls of the Great Wolf Lodge or even at the outdoor pool and mini-golf course, you wouldn't have a clue about your location on most days. Due to the design of the resort you will still feel like you've gotten away from it all, staying somewhere far away from the rest of the world.

Much like a visit to Walt Disney World, the Great Wolf Lodge does everything it can to provide you with everything you might need in the effort to be self-contained. Besides large restaurants that offer both menu and buffet style meals the resort also offers several other food options. There is a fast-food style outlet in the waterpark itself, a Dunkin' Donuts, Pizza Hut Express, a large number of ice-cream options as well as a display case full of a variety of baked snacks. The options here seem limited only by your imagination as you can choose from brick-sized rice-crispy treats, cookies, cupcakes, brownies, fresh fudge (in about a dozen flavor options) and just about any "dipped" snack you might want: caramel apples, chocolate covered marshmallows, strawberries and even dipped potato chips. As for that buffet I mentioned… while I didn't try the dinner, I do have to recommend the breakfast buffet as being excellent in both food quality and menu options.

First and foremost however, the Great Wolf Lodge is a resort that offers up a number of different room styles to choose from for your family. We stayed in a standard Family Suite which sleeps four comfortably on the two beds, as well having a nice sitting room area just beyond with a couch and table area, with the flat-screen TV on a swivel mount so it can face either this room or the beds. The couch also pulls out into a sleeper-bed, allowing to room for two more to hunker-down for the night. The rooms all include a coffee maker, microwave and mini-fridge, so you can keep your snacks close at hand. Wireless Internet is also available in all rooms for a small fee ($4.99 for 24 hrs). Another neat new feature of the resort is also your room key, which is contained in a RFID enabled wristband that you wear. This wristband allows you access to your room, can be used for all your cash-free purchases while in the resort, as well as being you access pass to the waterpark.

This is just one of eight different room options offered at the resort. The same basic suite also comes in Luxury King and Whirlpool flavors. Then there are the themed suites, such as the Wolf Den Suite, KidKamp Suite and KidCabin Suite where the kids get their own themed bedroom (with WALLS) away from the parents, and can sleep in bunk beds. If you still need more room, there are three larger multi-bedroom suite options (Majestic Bear Suite, Grand Bear Suite and Grizzly Bear Suite).

Enough about the rooms and food options, what you really want to hear about is what makes the Great Wolf Lodge resorts famous, the indoor waterpark with over 400,000 gallons of water fun. There is a nice enclosed kiddie play area that has an enclosed fence around it, which is great to keep your little ones from running off. There is the large Slap Tail Pond wave pool, which creates waves up to 3 feet tall. Of course they've got a large water fortress with more interactive squirt guns than you can count, the obligatory giant water dumping bucket as well as serving as a queue for two body slides.

These are just two of the resorts ten large scale waterslides which includes a pair of inner tube slides called the Totem Towers. Nearby you'll find one of the big surprises, the nation's first indoor 4-story tall, four-lane mat racer slide, The Mountain Edge Raceway. This isn't your standard mat racer however, as each of the tracks starts off by diving into their own enclosed dark high-speed tube section before blasting out back into the resort for the finale of dips and drops, racing to the finish line.

Climbing to the tip-top of the resort will take you to the two kind sizes slides, the Alberta Falls large family raft slide which gives off an awesome high speed slalom run in the day-time and after dark it turns into a pitch black ride into chaos. Next door is the most popular slide in the waterpark, the Howlin' Tornado, which starts out with a high speed run through the dark before plunging you down into the 6-story tall funnel where you spin, rise and fall over and over again before getting sucked down into another tube for your final run to the splash-down pool.

Once your feeling a bit water logged... there are also a few "dry" fun activities to try. First and formost would be the built in MagiQuest system that you can't miss as you walk the hotel's walkways that surround the lobby area. The game can be a bit expensive to start, requiring you to buy a $15 magic wand to play and then $10 for game time (which I was told lasts about 4 days before it runs out). Of course if you have a MagiQuest wand from another Great Wolf Lodge or even the MagiQuest center in Myrtle Beach, SC, you can bring it here and play with it instead of buying a new wand. Working as a team with my two sons, we managed to finish off every quest and adventure currently in the resort's MagiQuest system in about 5 hours. Wear confortable shoes, as you'll be running up and down the stairs the entire time.

If you want a little fun in the sun, head outside and next to the resorts outdoor pool area (which wasn't open during my visit) you'll find the Howl-In-One mini-golf course. This is a well designed and themed course, good for the kids as there is nothing too hard or extreme... other than the price. Yes, it's a little expensive for mini-golf... especially considering what the average hotel guest pays to spend the night at the Great Wolf Lodge. They claim the mini-golf course is accessable to everyone and not just hotel guests, but I'm not sure I get that as you need to pass through the waterpark itself (only for hotel guests) just to get to the mini-golf course. They charge $8 for adults and $5 for kids to play a round of golf, which is a bit more expensive than what they're charging to play across the freeway at the NASCAR Speedpark's mini-golf course. I really think that a round of golf should be either included with your stay or at the very least, drop the price to about half the current levels.

Inside the resort's bottom floor you'll find the Northern Lights Arcade (complete with one of the new Guitar Hero Arcade machines), as well as the GR8_Space teen tech center area, where the older kids can play an assortment of games on the centers array of Xbox 360's, Playstation 3's and Nintendo Wii's, as well as watch movies, surf the net or listen to music. This is an extra cost item however, requiring a $10 purchase to get in and play, but I believe your offerings are unlimited after this. If you didn't get your excersice running up and down the steps playing MagiQuest, or hitting the waterslides, then there is the large Iron Horse Fitness Center. If you want to relax... there is the Elemants Spa Salon along with the nearby Scoops Kid Spa. The resort also offers select activities in the Club Cub activity room to keep the kids even more busy. The resort also offers a large 20,000 sq-ft conference center able to be reconfigured to serve any need.

All said and done, on opening day this newest Great Wolf Lodge features most of the best features found at the other Great Wolf Lodges, with a great variety of slides in the watepark. This doesn't mean that there isn't room for improvements as there are a few other slides I'd love to see added in a future expansion such as a stationary surfing wave (like the Williamsburg resort has), a Master-Blaster style up and downhill powered slide, and I'd love to see them add a Behemoth Bowl slide to go with their already impressive Tornado slide.

So if your going to be visiting the Charlotte area, your visit wont be complete without a stay at the Great Wolf Lodge, so what are you waiting for?